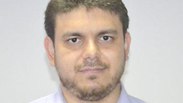 Palestinian electrical engineer shot dead in Malaysia
Fadi M. Albatsh, 35, shot by two assailants in Kuala Lumpur while on his way to the mosque for dawn prayers; Palestinian Islamic Jihad official, a relative of Albatsh, blames Mossad for assassination; Hamas says Albatsh was its member; deputy PM says gov't looking into possibility "foreign agents" involved.
A Palestinian electrical engineer from the Gaza Strip was shot to death Saturday morning in Malaysia by two assailants on a motorcycle, according to Malaysia police.

Dr. Fadi M. Albatsh was declared dead at the scene after the assassins fired 10 rounds at him.

Albatsh, 35, a lecturer at the British Malaysian Institute at the University of Kuala Lumpur, was shot while he was on his way from his home in the Jalan Gombak neighborhood to a nearby mosque for dawn prayers at around 6am.

Hamas said Saturday Albatsh was one of its own "loyal" members, describing him as a "shahid (martyr) who was characterized by his excellence and scientific creations. He made important contributions in this field. He participated in international conferences in the field of energy. The shahid set an example by growing closer to Allah and in his activity for the Palestinian issue."

Hamas stopped short of blaming Israel, saying only that he had been "assassinated by the hand of treachery." But media affiliated with Hamas claimed Albatsh was "assassinated by the Mossad."

Palestinian websites have identified Albatsh as a relative of a senior official in the Palestinian Islamic Jihad (PIJ), Khaled Albatsh, who also accused the Israeli Mossad of carrying out the hit and demanded Malaysian authorities to conduct an urgent investigation to expose those responsible for the killing before they have a chance to flee the country.

Malaysia police has launched an investigation into the incident.

According to Malaysian media reports, the assassins, who were described by witnesses as "white men" with "European features," were driving a powerful BMW 1100cc motorbike. Security camera footage showed they waited for Albatsh for 20 minutes until he arrived at the scene.

"Preliminary investigations found four gunshot wounds on the victim's body. Two bullet slugs were found at the scene of the incident," Kuala Lumpur police chief Mazlan Lazim said in a statement.

The police said it believes "this was a targeted killed and not a terror attack, because there were other people at the scene but the assassins focused only on (Albatsh)."

Police are now examining security cameras in the area in an effort to identify the assassins. "We're not ruling out any line of inquiry, including the possibility that elements identified with ISIS are behind the assassinations," police said.

When contacted later by Reuters, Mazlan declined to comment on reports that the victim was a member of Hamas or had been targeted by hitmen. "It's too early to say, we are still investigating all aspects."

Malaysia's Deputy Prime Minister Ahmad Zahid Hamidi told local media the government was looking into the possibility of the involvement of "foreign agents" in the killing, saying the suspects were believed to be Europeans with links to a foreign intelligence agency.

He added the victim had links with foreign intelligence and was active in pro-Palestinian non-governmental organizations, describing him as an expert in electrical engineering and rocket-building.

"His killing could have some links with foreign intelligence agencies or he may also be considered a liability to nations unfriendly to Palestine," Hamidi was quoted as saying by the New Straits Times English-language daily.

Albatsh's uncle Jamal Albatsh, speaking to Reuters in the Jabalia town in northern Gaza Strip, said he believed the killing was the work of Israel's Mossad espionage service.

"The Israeli Mossad stood behind the assassination of educated people and intellectuals, because Israel knows Palestine will be liberated by scientists. Therefore, they tracked this young educated man."

Fadi M. Albatsh, originally from Jabalia in the Gaza Strip, worked in Gaza's electric company before leaving for Malaysia in 2011. He did his BS and MS degrees in electrical engineering at the Islamic University of Gaza in 2006 and 2009, respectively, and received his PhD from the University of Malaya, Kuala Lumpur. He has won awards of excellence in his field in the past.

His official biography said his research interests included power converters, power quality and renewable energy. However, Israeli media reported that he was also deeply involved in the Hamas drone development project.

Palestinian Ambassador Anwar H. Al Agha was quoted by the New Straits Times newspaper as saying Albatsh was supposed to have left for a conference in Turkey on Saturday.

Albatsh, a devout, religious man who served as a second imam at the mosque, was married and had three children.

Albatsh's Facebook shows affiliation with Hamas. After the hit on senior Hamas military commanders during Operation Protective Edge in 2014, Albatsh posted their photo and wrote "We're all Hamas."

Eighteen members of his extended family, including children, were killed in a particularly deadly bombing in Gaza during Protective Edge.

He also posted a photo of himself with a symbol affiliated with the Muslim Brotherhood following the second revolution in Egypt.

The Associated Press and Reuters contributed to this story.