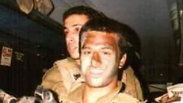 A Christian Arab from Nazareth joined the IDF of his own volition and served in the elite Golani Brigade. During his service, he was wounded in the Second Lebanon War and upon his discharge found another way to serve his country: combating the Boycott, Divestment and Sanctions (BDS) campaign and improving ties between Israeli-Arabs and the state.

Youssef Haddad, now 32, joined the army at the age of 18, although he knew of no family member or acquaintance who served.

Haddad spoke to Ynet about his decision to enlist, and said, "I felt that I was part of the state and I had to contribute so I decided to enlist in the army, specifically to Golani. At first, they could not guarantee that I would join Golani, but I insisted that I am volunteering for Golani and Golani alone."

He added, "After a few days, I was contacted by the recruitment office with the promise that if my Medical Profile was good enough I would be drafted into Golani. Sure enough, my Medical Profile was 97 (the highest possible in the IDF—ed) and I began my service in Golani."

After his enlistment, Haddad completed a squad commanders' course with honors and was assigned to the 51st Battalion of the Golani Brigade. He spoke of the hardships he experienced as a soldier from the Arab sector: "When I went home to Nazareth, I would get teased, cursed at and spit at, and sometimes I was called a 'traitor.' Because I am strong and believe in myself, I did not pay any heed and remained proud of myself."
'I told the doctor I will yet bounce a ball'
Ahead of Haddad's release in 2006, the Second Lebanon War broke out. During battle, he was wounded in the leg by a Russian-made Kornet rocket launched at his squad. "During the fighting I lost three commanders, seven friends and a soldier under my command. During the battle of Bint Jbail, four days before the cease-fire, a Kornet missile was fired at my force. It hit the wall next to me and as a result of my injuries, my leg was amputated and I was wounded in several other places on my body and face."

"During the entire rescue operation, I was fully conscious, and I remember how a reservist doctor said on the radio that if they do not rescue me soon, there will be nothing left to rescue by the evening. Eventually a helicopter came and during my evacuation our force was hit by additional rockets. During the process and with all the accompanying pain, I hummed to myself the Bob Marley song 'Don't Worry Be Happy,' (actually by Jamaican recording artist Bobby McFerrin) and I was taken to a Nahariya hospital."

At the hospital, Haddad called his father, and revealed that immediately after he told him that he had been wounded, he lost consciousness. "I woke up two days later and the first thing I checked was that the entire 'package' was complete. I saw that my leg was amputated and reconnected by a large device."

On the rehabilitation after the injury, Haddad said, "The healing process was very long. I told the doctor, 'I will yet play ball with this leg, you'll see,' but he cooled down the atmosphere a little. After several months of treatment and despite the odds, I returned to fitness and then I returned to the doctor and demonstrated bouncing a ball for him with my foot.

"The mental healing was not yet over though. I still have nightmares at night, and I tense up to every sound of an explosion and even a door slamming. I am dealing with this every day anew."
We need to integrate into the state
Youssef Haddad is currently advising a market research firm and has recently joined the Reservists on Duty organization, with whom he works against the BDS campaign and against resurgent anti-Semitism on campuses across the US. Simultaneously, he is establishing an association to strengthen ties between the Arab sector and the state.

"The Defense Ministry supported me immensely all the way and did not abandon me. Today I believe that just as I contributed to the state militarily, I can contribute in the PR arena and expose the lies disseminated regarding the State of Israel," he said.

As for the matter of national or military service in the Arab sector, Haddad said: "I encourage Arabs to enlist and serve as combat soldiers, and I also support national service, because we have to be part of the state and contribute to it.

"That is what will allow us to get ahead in life. The Arab MKs also need to focus on local issues like fighting crime, the advancement of women and poverty—and not just Palestinian affairs."