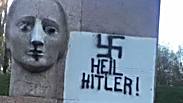 The defaced Poltava monuments
Neo-Nazis in the Ukraine were out in force last Friday, Adolf Hitler's birthday, and desecrated monuments, spray painted memorials and made anti-Semitic Facebook posts.

The "Grieving Mother" monument, a memorial in Poltava in eastern Ukraine to 8,000 of the city's Jews murdered by the Nazis in 1941, was desecrated with the writing "Heil Hitler" and a swastika.

Not far from the monument, unknown perpetrators sprayed "Death to Jews" on the marker denoting a mass grave of Holocaust victims, 76 years after their extermination.

A source within Poltava's Jewish community told Ynet that a police investigation was underway, and that communal services had the epithets removed.

In the southern Ukrainian city of Odessa, meanwhile, graffiti saying "A world without Jews. Kill the kike" was sprayed on a large beachfront wall.
Ukrainian teacher gives Nazi salute with students
No less of a public outcry was engendered by a Facebook post of a Ukrainian history teacher, who also serves as vice principal of a Lviv high school in western Ukraine. Teacher Mariana Batyuk published the Nazi leader's photo and wrote he was "a great man whatever one may say."

Batyuk, also a member of the city's council on behalf of the far-right Svoboda party, added, "The nation and homeland—that is the only doctrine truly important to me and all true national-socialists."

She concluded her post with a quote from Mein Kampf, Hitler's treatise that later served as the Nazi's regime's guidebook: "He who would live must fight. He who doesn't wish to fight in this world, where permanent struggle is the law of life, has not the right to exist."

Following the outcry created by her post, Batyuk deleted all incriminating evidence from her Facebook profile shortly thereafter and claimed, following inquiries from the media, that her account was hacked by provocateurs.

She did not, however, delete the various neo-Nazi groups in which she was a member. Nevertheless, many intrepid users managed to take screenshots of her posts, including a photo of her standing with her students and giving the Nazi salute—a screengrab taken by director of the Board of Ukrainian Jews Edward Dolinski.

"Immediately after she published (the initial post) I went into her profile and took screenshots," he told Ynet. "Her post was in blatant violation of Ukraine's laws, and denigrated the memory of millions of victims. It was a crime against all moral and ethical values."

His organization sought an urgent response from the state attorney, law enforcement authorities and Education Ministry, he added.