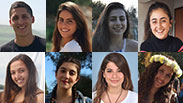 Ten teens killed in southern flash floods identified
As death toll rises to ten after rescue teams locate final missing teenager killed during school trip in HaArava, authorities release names of the victims, while their peers and teachers remember their 'beloved', 'talented', 'humorous' and 'selfless' students with 'big dreams.'
Ten Israeli teens who were killed on Thursday—nine girls and one boy—after they were swept away in a flash flood that rushed through the Zafit Stream in HaArava during a trip in south Israel have been identified.

They include Ela Or from Ma'ale Adumim, Romi Cohen from Moshav Maor, Yael Sadan from Jerusalem, Maayan Barhum from Jerusalem, Agam Levy from Moshav Herut, Gali Balelli from Givatayim, Shani Shamir from Shoham, Adi Ra'anan from Moshav Mikhmoret, Tzur Alfi from Mazkeret Batya, also in central Israel and Illan Bar Shalom from Rishon LeZion.

Search and rescue teams, police and IDF helicopters scrambled on Thursday afternoon to locate the group of teenagers as heavy rainfalls drenched the region, pulling from the treacherous streams nine teenagers, and rescuing 15.

Close to midnight, a desperate search concluded after rescue crews discovered the last missing teenager, who was pronounced dead at the scene, bringing the total death toll to ten. The body was taken to the Institute of Forensic Medicine to be identified.

The teenagers, from the Bnei Zion pre-military academy school, were on a two-day bonding trip to Zafit Stream in HaArava.

Ela Or, 18, was a high school student from Ma'ale Adumim. "The city shares the sorrow of the family of the girls and the boy who were taken in a terrible tragedy in the south," a statement read by the Ma'ale Adumim Municipality. "We are all with the family. We also send our wishes for a speedy recovery for all those injured."

A statement published by Ela's high school said "We are shocked at the death of our beloved student, Ela Or, in the terrible tragedy. Ela was a charming girl with big dreams, a student with values who was loved by her friends and teachers."

Final body pulled from floods (צילום: דב ליטבינוף)

Ela's friends assembled outside her high school on Thursday night. "We spoke on Sunday and she told me that she is going on a a trip which she didn't return from," said Liel Rahmani.

"She was so excited about it and she told me that she is so happy about her new chapter in the military academy. Ela always looked for the good. I was the pessimist and she was always the optimist. She always saw the good and that is what I will take from her.

Shir Ezra and Noam Haim, also friends of Ela's recalled her positive personality. "She was a happy girl, witty, a beautiful girl who left school early to hike in the rivers and fountains just so she could get to know the land," they said.

Another friend who was supposed to join the pre-military academy, but who eventually decided not to, said how Ela had eagerly waited for the trip. "She was the last kind of person to cancel a hike. On Tuesday I spoke to her and she laughed about not going to math class because she was going on the trip," the friend recalled.

He school principal, Brenda Horowitz described Ela as "one of the best students, a girl with a great mind who was always ready to help others. Ela combined a love for the land with love for Israel."

Tzur Alfi, 17, was accepted into the academy and was supposed to begin his studies there next year. "He was a charming boy who was sporty. Just three weeks ago he starred in a stage performance," head of the Mazkeret Batya Regional Council Meir Dahan told Ynet. "He was a boy with values, he was a humanist, cultured and wanted to be an educator."

"It is a small community here, where everyone knows each other. We are here with psychologist and social workers and with everything we need to give the children support," he added. "We didn't want them to have to experience this at such a young age but they are doing."

One of Tzur's friends, Gil, described him as a "wonderful person one of the most value-filled people I knew. He always put himself last and gave to everyone. He always had a smile on his face and was one of the funniest people I knew. There was no one who didn't love him. We will miss him so much. He was loved so much here. There isn't anything bad to say about him. He was one of the best people I ever knew."

Yael Sadan, who was selected to join the pre-military academy, completed her studies last year with distinction at the Jerusalem High School of Arts.

"She was a great girl, who smiled always with a sense of humor. She was a wonderful dancer, a talented choreographer and it was always fun to be around her," Yael's teacher said. Yael will be buried at 12:30pm at the Har HaMenuchot cemetery in Jerusalem's Givat Shaul neighborhood.

Maayan Barhum's school in Jerusalem invited anyone to visit and mourn her death together "in this difficult moment for us all."

City Mayor Nir Barkat also said that the entire city was mourning Maayan's death. "The disaster claimed the lives of Yael Sadan and Maayan Barhum. We are with the families and send our condolences and we are praying for those wounded," Barkat said. Maayan will be buried at 12:30pm at Har HaMenuchot in Jerusalem.

The northern moshav of Maor also grieved over the loss of Romi Cohen, 17, who had two brothers aged 12 and 16. Romi enjoyed dancing and was active on her school's student council.

She travelled to three US twice as part of a Jewish and Arab delegation sent by the Center for a Shared Society at Givat Haviva.

"Romi was a distinguished student and dancing was extremely important to her. She was the salt of the earth and talented in every field that she touched. She was a distinguished student and a wonderful friend who always thought about others and wanted to contribute and was very sensitive," said a family friend.

"She was a good daughter, a good friend and a good sister. She was proud of her family and proud of the moshav," added Netta Asulin, another family friend.

According to Asulin, Romi's mother, Yael, warned her daughter about going on the trip. Romi, however, told her mother "don't worry. Everything is ok. They changed the route and I am ok. It is hot and dry here."

Pain and suffering also swept the moshav of Herut in central Israel after Agam Levy's life was so prematurely snatched. "Our hearts are broken and it is hard to digest the awful news that Agam has gone," said the moshav's secretary, Mika Zohar. "The great pain in indescribable. This is a loved and wonderful family and now it is our job to support them in this difficult hour."

Agam was supposed to begin studying next year at Bnei Zion. Her friends said she was excited ahead of the bonding trip. Her parents, Shiri and Shai, and her brothers, Ofek and Shaked, supported her decision to go on the hike.

Her friends also said that Agam excelled in her studies and loved learning about Israel and about physics. She was active in the moshav's Children of the Moshav group and always offered to help people in need, her friends said.

"She always looked for the good. This is a huge loss for us all," said one of her friends. Another one said he was struggling to come to terms with the news, describing Agam as "always being a light for everything." She will be buried at 12:30pm at Lev HaSharon Cemetery in Tel Mond.

Gali Balelli, 18, enrolled in the academy to increase her chances of being accepted to a more meaningful role in her compulsory military service and to contribute to society. She is survived by two brothers and her parents, Eyal and Ettie.

Only "good things" could be said about Gali, "a very special girl who was full of giving," her school principal said. "We cannot think about going on without her, I don't know how."

Omri, a friend of Gali's remembered talking to her extensively about military service. "There was a full month when she wasn't in school because she went to see many pre-military academies and I now ask myself why her.Our hearts are torn and we are in shock. It is terrible," Omri said.

Shani Shamir, 18, was the daughter of a well-established family in Shoham. She will be buried at 3pm Beit Arif cemetery.