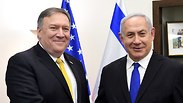 PM Netanyahu with Mike Pompeo in Jerusalem
Photo: Stern Matty/US Embassy Tel Aviv
The new US Secretary of State Mike Pompeo told Prime Minister Benjamin Netanyahu on Sunday afternoon that US President Donald Trump "will withdraw from the Iranian nuclear agreement" if it cannot be fixed. "It's pretty straightforward."

Pompeo was speaking on a whirlwind visit to the region, where he had earlier met with Saudi King Salman in Riyadh and stressed the need for unity among Gulf allies as Washington aims to muster support for new sanctions against Iran for its missile program.

Secretary of State Mike Pompeo and PM Netanyahu during joint press conference (צילום: מתן טורקיה)

Pompeo hailed the "fantastic conversations" with Netanyahu during a joint press conference, telling him that the US remains "deeply concerned about Iran's dangerous escalation of threats towards Israel and the region."

"Strong cooperation with strong allies like you is critical to countering Iran's destabilizing and malign activities," the former CIA director said, before assuring the Israeli premier that "The United states is with Israel in this fight and we strongly support Israel's right to defend itself."

The secretary of state also praised President Trump for his decision to recognize Jerusalem as Israel's capital and to move the US Embassy from Tel Aviv to the holy city—a mission he boasted would be completed ahead of schedule.

Adding that Trump's decision was a recognition of reality, Pompeo stressed that the final boundaries of Jerusalem remained subject to peace negotiations.

Speaking before Pompeo, Prime Minister Netanyahu said that his visit to Israel was "symbolic of our friendship, which is deep and getting even deeper and stronger.

"You're a true friend of Israel, a true friend of the Jewish people and I look forward to working with you in your new role," Netanyahu said in his opening remarks.

Netanyahu also thanked Trump for his "bold decision" on Jerusalem, which he said had prompted other countries to move their embassies.

"I think the greatest threat to the world and to our two countries, and to all countries, is the marriage of militant Islam with nuclear weapons, and specifically the attempt of Iran to acquire nuclear weapons. We have had a very productive talk today on this subject," the prime minister continued.

People who believed that the Iran nuclear deal would moderate Tehran's behavior were mistaken, Netanyahu asserted, adding that "Iran is trying to gobble up one state after another."

Concluding his remarks, the prime minister said, "I can say that today America and Israel are closer than ever before."

Prior to the press conference, Netanyahu congratulated Pompeo upon taking office. "We are very proud of the fact that this is your first visit as Secretary of State," Netanyahu said, with Pompeo reciprocating the warm words.

"You're an incredibly important partner, and occupy a special place in my heart too," Pompeo replied.


Ahead of Pompeo's arrival, Netanyahu said the talks would focus on "Iran's growing aggression" in the region and the upcoming US decision on the international nuclear agreement with the Islamic republic.

He called Pompeo, who advocates a hard line against Iran, a "true friend" of Israel.

Associated Press and Reuters contributed to this report.