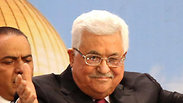 Palestinian President Abbas
Photo: EPA
US officials slam Abbas's anti-Semitic speech
Palestinian president says Europeans persecuted Jews not because of their religion, but rather 'their social function, which relates to usury and banking and such'; US Ambassador to Israel Friedman says Abbas reached 'a new low,' while Envoy Greenblatt calls remarks 'very unfortunate, very distressing and terribly disheartening.'
US officials condemned on Tuesday night Palestinian Authority President Mahmoud Abbas's anti-Semitic speech at the Palestinian National Council (PNC) conference in Ramallah.

Abbas "has reached a new low in attributing the cause of massacres of Jewish people over the years to their 'social behavior relating to interest and banks,'" said US Ambassador to Israel David Friedman on Twitter.

"To all those who think Israel is the reason that we don't have peace, think again," he added.

Jason Greenblatt, US President Donald Trump's envoy to the Middle East, asserted the speech "must be unconditionally condemned by all."

Abbas's remarks, Greenblatt added, "are very unfortunate, very distressing and terribly disheartening. Peace cannot be built on this kind of foundation."

In his speech Monday, the Palestinian leader repeated conspiracy theories about the Jews' origins and their ties to the land of Israel, reminiscent of a speech he made three months ago in which he wished upon Trump "May your house come to ruin."

"The Jewish question that was widespread throughout Europe was not against their religion, but against their social function, which relates to usury and banking and such," Abbas said on Monday.

He claimed Nazi leader Adolf Hitler offered the Jews money incentives to emigrate out of Europe to Palestine, including the option of taking all of their assets with them and selling their real state in the continent.

"He (Hitler) wanted the Jewish homeland (in Palestine) to be supportive of him," the Palestinian leader said.

Abbas also spoke about the roots of European Jewry, quoting a historian called Arthur Koestler who wrote about a "13th tribe" of Israel in the "Khazar Kingdom"—a theory that has been dismissed by other Jewish historians.

The Khazar Kingdom, Abbas said, eventually collapsed and its subjects spread throughout Europe. Those subjects, Abbas asserted, are the Ashkenazi Jews.

"They have no relationship to Semitic culture, Abraham, Jacob and others," Abbas claimed.

He also compared the treatment of European Jews to that of Jews who lived in Arab nations, saying the latter never suffered from persecution in the 1,400 years they lived there.