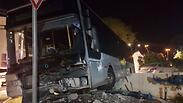 The bus
Photo: hotnews9191
A bus driver in Afula was "very seriously" wounded after being stabbed in his upper body and head while driving by two youths he described as 'ethnic minorities.'

The attack caused the driver to lose control of the bus and hit a nearby private vehicle, a water pipe and a wall, he told medics treating him at the scene.

His attackers escaped, prompting police to launch a manhunt in the northern city.

By Wedensday evening, the circumstances surrounding the incident remained unclear. Police say the two youths were minors.

Aftermath of the stabbing (צילום: דוברות מד"א)

The driver, later identified as Shimon Gabbay, is a resident of the city who was said to be around 60 years old.

He was evacuated to Rambam Health Care Campus in Haifa in moderate condition, which reportedly deteriorated to critical on his way to the hospital.

Shortly after, he was said to be in very serious condition and by Thursday morning, his situation, while serious and in need of emergency treatment, improved, and he was able to communicate with his family.

Footage of the driver after the attack showed him bleeding profusely from his head and upper body.

Two passengers from the impacted vehicle were also evacuated in light condition.