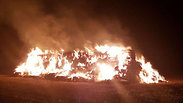 Fire consumes crops in Kibbutz Afikim
Photo: Emek HaYarden Regional Council
A pile of straw was set ablaze in the fields of Kibbutz Afikim in the Jordan Valley on Friday night in what is being described as the latest incident of "agricultural terrorism."

The damage caused by the fire was estimated at hundreds of thousands of shekels.

In recent years, Farmers in northern Israel have been suffering from attacks on their agricultural equipment and fields, mostly in the form of arson - a trend that has only increased in recent months.

Field set ablaze in Kibbutz Afikim (צילום: דוברות המועצה האזורית עמק הירדן)

Hundreds of bales of straw, which were piled up and waiting to be transported to haylofts in Kibbutz Afikim, were set on fire on Friday night. While firefighters were rushed to the scene, the straw was completely burned, and it took hours to put out the flames.

The Emek HaYarden Regional Council, where the kibbutz is located, called on the Agriculture Ministry and the Public Security Ministry to take action to stop this trend, rather than just make threats.

"This is the ugly face of agricultural terrorism," said council head Ido Greenbaum. "A field of wheat that someone had put a lot of work into growing, harvesting and gathering was vandalized with fire within seconds. The agriculture minister and the public security minister must start showing results to their actions. The endless talk we've been hearing is just not cutting it."

Justice Minister Ayelet Shaked addressed the matter this week during an inauguration ceremony for a civil prosecution in the north, saying cooperation between the criminal and civil prosecution could help promote the fight against agricultural terrorism.

Several days before Passover, two big and expensive harvesters were set aflame in the Jordan Valley. The angry farmers launched a protest across the country, bringing the burned harvesters along. When they wanted to display them near an Agriculture Ministry exhibition in Beit Dagan, they were removed from the place.