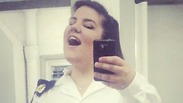 Netta Barzilai in uniform
Photo: Facebook
BDS campaign targets Netta Barzilai's Eurovision bid
Being odds-on favorite of winning Eurovision song contest, Israel's entrant Netta Barzilai targeted by BDS campaign; campaign shows Barzilai in uniform, calls to give Israel 'zero points'; 'Gunboat crews whom Barzilai sent off with her songs played a part in Gaza carnage,' campaign accuses; brushing off campaign, Barzilai says she 'feels ready for semifinal, hopes to make all of Europe dance.'
Israel's representative to the Eurovision song contest Netta Barzilai has become a target of Boycott, Divestment and Sanctions (BDS) activists, including Israelis, who have embarked on a publicized campaign to try and sabotage her chances of winning, calling on European voters to boycott her.

Barzilai was noted as an early favorite to win the competition, whose final will be held Saturday, with her song "Toy." In an attempt to prevent that from happening, the boycott's organizers called on European residents in both English and Hebrew to boycott the Israeli song, awarding it zero points.

The campaign's Facebook page, titled "Eurovision boycott of Israel – ZERO points to the song of Israeli Apartheid," uploaded a photo of the Israeli crooner from her days in the Israeli Navy's band, noting she had served in 2014—during Operation Protective Edge—and sang "My Sailor, My Angel" to navy members who later took part in the massacre of children in Gaza.

"The gunboat crews whom Netta Barzilai sent off with her songs played a part in the Gaza carnage," the Facebook page accused, going on to say that while Toy was supposedly an anthem of female empowerment, it did not empower the "women of the Gaza open-air prison."

"Remember the children murdered in Gaza and give zero points to Barzilai, her song and the apartheid state which she represents," organizers asked their supporters.

Later in the post, they alleged that the song was meant to "rebrand Israel internationally. The Israeli song is widely promoted on the net, in a massive propaganda campaign very generously funded by the Israeli government. (Prime Minister Benjamin) Netanyahu, his ministers and generals would like nothing better than for Barzilai to win the Eurovision."

Meanwhile, in Lisbon, Barzilai has continued preparing for the contest and seemed nonplussed by the calls to boycott her. "After a week of rehearsals in Lisbon I feel ready for the semifinal and hope to make all of Europe dance," the songstress told Yedioth Ahronoth Saturday.

She will take to the stage for one final rehearsal Monday, before her performance in Tuesday's first semifinal. The second semifinal will take place Thursday, whereas the final will be held Saturday.

The Eurovision's scoring system is based on an equal number of points awarded by judges and the contest's viewers from across the continent and participating countries.

The BDS campaign's efforts may thus prove successful in significantly hampering the Israeli's chances of winning—or even making it to the final.