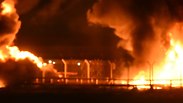 Fire at the Kerem Shalom border crossing
Photo: IDF Spokesman's Office
Hundreds of Palestinian rioters vandalized and set fire to a fuel complex and a conveyor belt on the Gaza side of Kerem Shalom, the strip's main cargo crossing with Israel, causing more than $9 million in damages and disrupting the import of diesel fuel and building materials.

According to the IDF, the fuel installation is the only way to bring diesel fuel into Gaza for operating generators for hospitals and other key facilities.

A video from the Kerem Shalom crossing shows Palestinians cheering as a fire was set.

It was the second such attack on the facility in a week. "Hamas continues to lead the residents of Gaza to destroy the only assistance they receive," the IDF said.

Nissim Jan, the director of an Israeli company that operates Kerem Shalom in partnership with private Palestinian companies, said he spent large sums to repair last week's damage. "This time I can't repair and will not repair it. Where shall I bring money from?" he said.


Some 15,000 Palestinian rioters burned tires and threw grenades, pipe bombs and stones at IDF troops near the Gaza border with Israel on Friday.


Some protesters flew kites with burning rags attached. One of the kites was downed by a small Israeli drone. Others caused fires in open areas in Israeli communities by the Gaza border. Most of the fires broke out in the Shaar HaNegev Regional Council area, and firefighters were able to gain control of all of them.

Several Palestinian rioters attempted to sabotage the fence and other security measures on the border.

A 40-year-old Palestinian was shot dead in his chest in clashes with the IDF east of Khan Yunis in the southern part of the strip, according to Gaza health officials.

At least 176 Palestinians were wounded by live fire, including a 16-year-old boy shot in the head, the Palestinian health officials added. Dozens of others were overcome by tear gas inhalation.

Since the Hamas-led marches began in late March, 44 Palestinians have been killed and more than 1,800 wounded by Israel army fire, according to figures provided by Gaza sources.

The Associated Press contributed to this story.