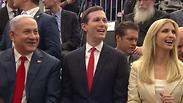 Netanyahu, Kushner and Trump at the embassy opening
Photo: Mizmor
US Embassy opens in Jerusalem: 'When Trump makes a promise, he keeps it'
In video message, Trump says embassy move has been 'a long time coming' after the US has 'failed to acknowledge the obvious' for many years; Kushner addresses rioting on Gaza border, noting 'those provoking violence are part of the problem and not part of the solution.'
President Donald Trump was the only president to fulfill his promise to move the American embassy to Jerusalem—this was the message repeated by all speakers at the inauguration ceremony for the new US Embassy in the Israeli capital on Monday.

Trump's daughter Ivanka and son-in-law Jared Kushner, along with Treasury Secretary Steve Mnuchin, led the US delegation with a single message: Only Trump had the courage to act on what America has wanted for a long time.

"While presidents before him have backed down from their pledge to move the American Embassy once they were in office, this president delivered. Because when President Trump makes a promise, he keeps it," Kushner said.

Prime Minister Benjamin Netanyahu also thanked Trump for "having the courage" to keep his promise to move the embassy to Jerusalem from Tel Aviv.

"What a glorious day for Israel," a jubilant Netanyahu said. "Remember this moment. This is history. President Trump, by recognizing history you have made history. All of us are deeply moved, all of us are deeply grateful."

"This is a great day," he continued. "A great day for Jerusalem. A great day for the state of Israel. A day that will be engraved in our national memory for generations."

Netanyahu's speech (צילום: מזמור)

"I believe it's a great day for peace," the prime minister pronounced.

He thanked Kushner, Trump's envoy Jason Greenblatt and US Ambassador David Friedman for their "tireless efforts to advance peace" and for their "tireless efforts to advance the truth."

"The truth and peace are interconnected," Netanyahu opined. "A peace that is built on lies, will crash on the rocks of Middle Eastern realities. You can only build peace on truth. And the truth is that Jerusalem has been and will always be the capital of the Jewish people, the capital of the Jewish state."

Jerusalem, the prime minister stressed, will always be the "eternal, undivided" capital of Israel. "We are in Jerusalem and we are here to stay," he vowed.

Netanyahu asserted Middle East peace must be founded on the "truth" recognized by the US. "The truth is that Jerusalem has been and always will be the capital of the Jewish people, the capital of the Jewish state," he said.

Ambassador Friedman's remarks (צילום: מזמור)

The relocation of the embassy from Tel Aviv has infuriated the Palestinians, who seek east Jerusalem as a future capital. Protests roiled the Gaza border, resulting in dozens killed.

In a video address that aired at the ceremony's opening, Trump said the move to Jerusalem has been a "long time coming."

Trump's pre-recorded message (צילום: מזמור)

Trump, like many of the speakers at the ceremony, highlighted Israel's right to determine its own capital.

"Today, Jerusalem is the seat of Israel's government, it is the home of the Israeli legislature and the Israeli Supreme Court, and Israel's prime minister and president," he said.

"Israel is a sovereign nation, with the right like every other sovereign nation, to determine its own capital. Yet for many years, we failed to acknowledge the obvious. The plain reality that Israel's capital is Jerusalem."

Trump said he remained committed to "facilitating a lasting peace agreement," and that he was "extending a hand of friendship to Israel, the Palestinians and to all of their neighbors."

Rivlin's speech (מזמור)

Kushner, a senior aide to President Trump and his son-in-law, was the only one of the speakers to directly address the violent clashes on the Gaza border, where some 40,000 Palestinians were rioting. With dozens dead and hundreds wounded, it was the deadliest round of cross-border violence since 2014.

"As we have seen from the protests of the last month and even today, those provoking violence are part of the problem and not part of the solution," Kushner said.

Kushner's speech (צילום: מזמור)

Kushner was also the only one to acknowledge President Trump's decision to withdraw from the Iran nuclear deal.

"Last week, President Trump acknowledged another truth and kept another promise—he announced his intentions to exit the dangerous, flawed and one-sided Iran nuclear deal," Kushner said, receiving a standing ovation.

Ivanka Trump and Steven Mnuchin unveil US Embassy plaque

Kushner then asserted that the "journey to peace started with a strong America recognizing the truth."

"I believe peace is within reach, if we dare to believe that the future can be different from the past, that we are not condemned to relive history, and that the way things were is not how forever they must be," Kushner continued. "It's not an easy road, and it'll be filled with difficult moments and tough decisions, but if we dream big, if we lead with courage, we can change the trajectory for millions from hopelessness to boundless."

He called on Jerusalem to be a symbol of unity, not division. "Throughout history Jerusalem has been the victim of war and conquest. It has been used to divide people and to instigate conflict by those with evil intentions. But it does not have to be this way. Jerusalem must remain a city that brings people of all faiths together: To visit, to worship, to respect each other, and to appreciate the majesty of history and the glory of God's creation," Kushner said.

US national anthem (צילום: מזמור)

Earlier that morning on Twitter, Trump urged people to watch the ceremony on television and declaring the day "A great day for Israel!" As the ceremony began, he wrote: "Big day for Israel. Congratulations!"

Likewise, Trump's aides also made no direct reference to the climbing death toll. In a Fox News interview, Mnuchin repeatedly referenced Jerusalem as the capital of Israel and said Trump should be praised for "taking action" to keep Americans and people in the Middle East safe.

"The president is making difficult decisions because they are what he believes are the right long term decisions and not just kicking the can down the road," Mnuchin said.

Mnuchin also said "it's not coincidental" that the embassy move coincided with Trump's announcement that he planned to abandon the Iran nuclear deal.

Also on hand were Republican Sens. Ted Cruz of Texas, Mike Lee of Utah, Dean Heller of Nevada and Lindsey Graham of South Carolina.

The embassy celebration was widely considered a snub by the Palestinians. Roughly 800 attended. US officials said last week that Trump's delegation was not planning on meeting Palestinian officials during their visit. The Trump administration in recent months also has slashed US aid to the Palestinians and programs that support them.

Trump's policy is a sharp departure from past US administrations, which have tried to position America as a neutral party ready to broker a peace deal.

"Of all the things President Trump could have done, doing this (embassy move) is the strongest signal he could send to the Israeli people," South Carolina's Graham said.

The new embassy will temporarily operate from an existing US consulate, until a decision has been made on a permanent location.

Reuters and Associated Press contributed to this report.