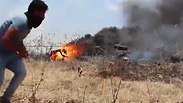 Gaza border rioter
Photo: IDF Spokesperson's Unit
IDF details attempted terror attacks carried out under guise of Gaza border protest
Eleven Hamas militants, armed with weapons and explosives, attempted to use Monday's riots on the Gaza border as cover to breach the fence, plant explosives to harm Israeli soldiers; they were intercepted by Israeli commando units.
The IDF has published new details on Monday's attempted terror attacks at the Gaza border protest that ended in the liquidation of 11 terrorists, revealing the militants lobbed pipe bombs and grenades at the Israeli soldiers who came to confront them.

On Monday afternoon, at the peak of the violent demonstrations near the security fence and the rioters' attempts to breach it, the IDF received intelligence about two Hamas cells intending to carry out terror attacks aginst IDF soldiers by planting explosive devices on the security fence.

Footage of the incident (צילום: דובר צה"ל)

A Maglan Special Forces unit used the intelligence to ambush one of the cells on the Israeli side of the border, catching them in the act. The terrorists, eight of them in total, opened fire on the soldiers and on two armored IDF vehicles passing by and threw explosives at their positions.

Noticing this, the crowd of demonstrators dispersed and fled the area. This gave the Israeli soldiers a window, which they then seized to return fire and shoot dead the eight assailers.


According to the IDF, at the end of the incident eight weapons were found on the eight bodies of the terrorists, including a pistol whose cartridge was emptied, fragmentation grenades and other explosives, as well as cutting tools and cables meant to be used to break through the border fence.

The IDF responded to the incident by ordering its fighter jets and tanks to attack Hamas positions in the northern Gaza Strip.

"The fighters worked professionally with a lot of courage and precision, and prevented a significant shooting attack on our forces," said the commander of the Maglan unit.

Meanwhile, a smaller Sayeret Shaked Special Forces unit was dispatched to thwart the second, three-man terror cell, managing to shoot dead all three. Their bodies were then promptly hauled away by Palestinian women and men—dressed as women to deter the IDF from opening fire on them.

An examination of the scene revealed that the terrorists in this cell too carried knives, cutting tools grenades and other explosive charges, some of which they threw at the IDF force during their encounter.

No IDF soldier was harmed during the two operations.

The IDF praised the activities of the combatants and noted that similar incidents of explosive ordnance occurred Monday under the auspices of the demonstrations along the border.