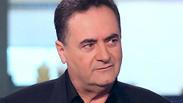 Minister Katz
Photo: Avi Mualem
Katz: No reason for Israel not to recognize Armenian Genocide
Intelligence minister says gov't should support bill proposal to recognize Othman Empire's systematic extermination of 1.5 million Armenians in the early 20th century; he also slams Erdoğan: He's the last one that can preach us, but the first one to do so.'
Transportation and Intelligence Minister Yisrael Katz said Wednesday he sees "no reason morally and historically" not to recognize the Armenian Genocide, adding that Turkish President Recep Tayyip Erdoğan "is truly an enemy."

A new diplomatic crisis erupted between Jerusalem and Ankara after Erdoğan leveled harsh criticism at Israel over the high death toll in clashes on the Gaza border between Palestinians and IDF.

Erdoğan recalled his ambassador to Tel Aviv and expelled Israel's ambassador. In response, Israel asked Turkey's consul-general in Jerusalem to leave.

On Wednesday morning, Israel's Ambassador to Ankara Eitan Na'eh was humiliated at the Istanbul International Airport as he was made to undergo a strict security check in front of media cameras.

Because of the on-camera humiliation, the no. 2 diplomat in the Turkish mission in Israel, Umut Deniz, was summoned by the Foreign Ministry for a reprimand.

Upon his arrival at the Foreign Ministry, Deniz was asked to present his identification at the entrance—Israel's response to the humiliation of Na'eh.

In an interview with Ynet on Wednesday, Minister Yisrael Katz called to support a bill proposal by opposition MK Itzik Shmuli calling on the Israeli government to officially recognize the Armenian Genocide—the Ottoman government's systematic extermination of 1.5 million Armenians, mostly citizens within the Ottoman Empire, from 1915 to 1917.

Katz also slammed the Turkish president, saying Erdoğan "hates the State of Israel. He's a man of the Muslim Brotherhood, Hamas's mother-movement. Every time something happens in Gaza, he gets worked up and acts in a very extreme manner."

"This is a man who slaughters the Kurdish minority in Turkey and now in Syria," Katz went on to say. "He took 140,000 Kurds and transferred them from the region to replace them with other residents. The man acts cruelly and then preaches us. He's the last one that can preach us, but the first one to do so."

"He funnels massive amounts of money to radical movements, with an emphasis on the Temple Mount, and tries to fan tensions and incitement against Israel," Katz said of Erdoğan. "This is worse, by the way, than his remarks right now. We need to put a clear end to this, if necessary with legislation or any other way."

However, Katz stressed it would be "a complete mistake" to cut or downgrade Israel's ties with Turkey. "Erdoğan is an ideological enemy for the State of Israel, but we shouldn't volunteer so quickly to cut ties with countries we clash with over one reason or another," he said.

MK Shmuli told Ynet there is sweeping bipartisan for his bill proposal.

"There have been countries that recognized the massacre and the Turkish responsibility for it, and the Turks did not dare nix the diplomatic ties with them," he said.

Shmuli slammed Erdoğan, calling him "the barbaric and anti-Semitic Sultan of Ankara" who "dares preach the State of Israel about morals, while he's bombing the Kurds in northwestern Syria every day."

Katz described the violent protests on the Gaza border, which led to the death of over 100 Palestinians over 6 weeks, as "a Hamas military operation, in which it used children, women and other civilians. Instead of missiles and shells, Hamas sent them as living ammunition to the fence, as living targets and as victims."

He went on to say that "the Egyptian intelligence minister summoned Ismail Haniyeh, flew him to Cairo, made him wait at the entrance to his office, spoke to him very harshly and showed him proof—with our help—that (Hamas) are the ones who organized, they were the ones who paid, they were the ones who pushed (for the protests). He warned him and said: If you don't stop, Israel will escalate its response, Egypt will not be involved, and you will pay the full price."