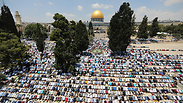 Ramadan prayers on the Temple Mount
Photo: Reuters
Ramadan not as festive this year in wake of Gaza deaths
The holy month of Ramadan begins Thursday, with hundreds of millions of Muslims all around the world fasting from sunrise to sunset; in Israel, many Muslim Arabs decide not to attend festive events or decorate their homes, in solidarity with Gaza residents.
Hundreds of millions of Muslims around the world began fasting on Thursday from sunrise to sunset for the month of Ramadan, a time of contemplation, fortitude and intense worship.
In the wake of the Gaza border protests, which claimed the lives of over 100 Palestinians, several Ramadan events have been canceled, and many families chose not to hang festive decorations in solidarity with Gaza's residents.
"No doubt this Ramadan will be very sad," said Dr. Thabet Abu-Rass, the co-executive director of the Abraham Fund, who lives in Qalansawe. "In most Arab villages, people are not decorating their homes and streets as they do every year. Half of my family is in the Gaza Strip ... it hurts us to celebrate."


"This year, there are many campaigns to raise money for the residents of the Gaza Strip," said Yaqub Abu-Ibrahim, the Arabic press spokesperson for the Abraham Fund. "On social media, people keep asking: How can we be happy and decorate while the Gazans are being killed?"
Umm al-Fahm resident Samira Maamid also lamented the Gaza border deadly clashes. "This year I won't take part in any Ramadan celebrations, as it pains me to see all those people being murdered in Gaza and (I can't) carry on as if nothing happened. It's very sad. We need to declare many mourning days commemorating Gaza's residents," she said.
Tayibe mayor Sha'a Mansour Massarwa said the "Ramadan Market" 10-day culture festival will nevertheless take place starting Thursday.
"This is the third consecutive year that Tayibe holds this important event, which directly helps in changing the town's reputation and in reducing crime in it," the mayor said.
During the month of Ramadan, tens of thousands of Muslims attend prayers in the Al-Aqsa Mosque in Jerusalem, with hundreds of buses taking men, women, and children to the mosque every day.
The Ramadan fast, which takes place at different dates every year so different places around the world could experience it during different seasons, has a social significance as well.
"The fast teaches us to be patient and tolerant. The fact we don't put anything in our mouths—neither food, nor drink, nor anything else—teaches us about restraint," Abu-Rass explained.
Fasting in Ramadan is also seen as a way to cleanse the body. The iftar meals, which take place after sundown at the end of the day's fasting, are usually rich and include at least three different foods. It is also customary to serve sweets at iftar meals, such as Qatayef (sweet dumpling filled with cream or nuts).
Food and drink are not the only things forbidden during the day in the month of Ramadan, couples are also barred from having intimate relations.
"Sometimes, it's not simple to be a Muslim Arab in Israel," Abu-Rass said. "In a lot of places, there are clashes—for example, universities and schools scheduling tests during Ramadan in hours that are not easy for those who fast. Every year we turn to government organizations and education institutions and ask them to be considerate of those fasting."
The Associated Press contributed to this story.