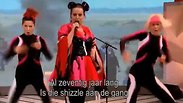 Netherlands' Jewish community and pro-Israel organizations are fuming over an anti-Israeli parody of Netta Barzilai's "Toy" broadcast Saturday during a popular TV-show aired on a public broadcasting channel, which some say contained anti-Semitic overtones.

Performing her rendition of the Israeli winner's Eurovision Song Contest song, the comedian Sanne Wallis de Vries implied during her version on her new show that the US's opening of its new embassy in Jerusalem was yet another way to make money.

Sanne Wallis de Vries sings parody of 'Toy'

De Vries sung the chorus against a background of recent violence on the Gaza border during riots that were held the same day as the embassy's opening. Other images also featured in the background, with the upbeat song contrasting with images of Israel's security barrier, IDF vehicles and scenes from last week's deadly riots on the Gaza border.

In the parody, the words of the song, which focus on female empowerment, were changed to:

Look at me, I am such a cute country,

World leaders all eat out of my hand

I make all fires disappear with a kiss,

We are having a party, you wanna come?

Soon in the Al-Aqsa mosque, which will soon be empty

From Haifa to the Dead Sea, there is kosher food and drink

So come and dance with me.

Is your country surrounded by rock-throwers?

Build walls like Trump dreams about at night and fire rockets at them

Look how wonderfully I fire explosives

Again, Israel is winning

70 years of this celebration is continuing, look how wonderful it is.

I won't allow Palestinians to enter

I am a tough dog who chases Palestinians

This is my party and this is my time to shine

Was your party ruined by extremists?

Open another embassy and make more dollars and cents.
'Anti-Semitism has returned to mainstream'
Replacing the trademark chicken-clucking during the chorus of Netta's original song, de Vries inserts: "with your ka-ching, ka-ching and your ping-a-ping, with your dollars and cents and your funds, with your ka-ching, ka-ching, ka-ching."

The Center for Information and Documentation on Israel, (CIDI), a pro-Israel organization, accused de Vries of anti-Semitism by evoking traditional anti-Jewish prejudices by associating Jews with money in the song.

The parody also aroused criticism on social media in Holland for the mingling of political and non-political issues.

Following the skit, the organization's members confronted the comedian on Twitter and wrote: "Hi Sanne, we heard your parody and the Israeli song at the Eurovision with the jokes about Jews and money. How funny!"

Other Dutch Twitter users expressed their disgust for the comedian in less sarcastic terms. "You're a disgusting person," wrote one of the people after the performance. "Now you have really been exposed," wrote another. "You don't have the courage to condemn Islam."

"Is this what my taxes go on?" one enraged Twitter user asked. "Once again anti-Semitism has returned to the mainstream! How sad," another complained.

The Israeli Embassy in Holland submitted a formal complaint to the television station that broadcast the parody. The complaint was sent both to the Dutch Foreign Ministry and to a leading Jewish community organization.