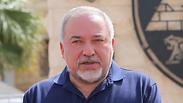 Defense Minister Lieberman
Photo: Alex Kolomoisky
Lieberman plans huge construction plan in West Bank
Defense minister announces he will seek approval from regional planning board for immediate initial construction of 2,500 housing units and 1,400 for a later date, spread across 30 'large and small' communities; 'We committed to building in Judea and Samaria and we are fulfilling that commitment.'
Defence Minister Avigdor Lieberman said on Thursday he plans to seek approval next week for the construction of some 3,900 new homes in Jewish settlements in the West Bank.

In a press statement, Lieberman said a regional planning board would be asked to designate 2,500 of the housing units for immediate construction, and another 1,400 to follow.

Lieberman will ask The Higher Planning Council in Judea and Samaria to promote planning procedures in more than 30 communities throughout the West Bank.


The housing units will be distributed mainly between the settlements of Ariel (400), Ma'ale Adumim (460), Kiryat Arba (15), Avnei Hefetz (130), Talmon (180), Kfar Etzion (160) and Halamish/Neve Tzuf (60).

"We committed to building in Judea and Samaria and we are fulfilling that commitment," Lieberman said in his press statement. "We will approve 2,500 new housing units next week at the planning council for immediate construction in 2018. In the coming months we will seek approval for thousands of additional housing units. We will continue to populate and develop Judea and Samaria with actions."

Israel disputes that its settlements are illegal and says their future should be determined in peace talks with the Palestinians, who want the West Bank to be part of a future state.

"We will promote building in all of Judea and Samaria, from the north to south, in small communities and in large ones," Lieberman wrote.

There was no immediate comment from Palestinian officials, who have long argued that Israeli settlements could deny them a viable and contiguous country.

Some 500,000 Israelis live in the West Bank and eastern Jerusalem, areas that are also home to more than 2.6 million Palestinians.