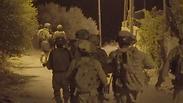 File photo
Photo: IDF Spokesman's Office
An IDF soldier was critically wounded early Thursday during an arrest raid at the al-Am'ari Refugee Camp on the outskirts of Ramallah in the West Bank.

Around 5am, a force from the elite Duvdevan Unit entered the camp to arrest a wanted Palestinian. While they were there, violent rioting erupted, with different objects being hurled at the troops.

A marble slab was thrown from the window or the roof of a house in an alley, hitting the soldier's head.

"His helmet was destroyed; he fell on his back and suffered another blow. So he was hit hard in the head and was evacuated," an IDF official said.

"This was a necessary raid to arrest several terrorists who carried out attacks in the past. The soldier was wearing full protective gear, including a helmet, and while he was standing close to one of the homes the marble slab was thrown down at him," the IDF official explained.

His fellow soldiers evacuated him out of the camp, and he was taken to the Hadassah Medical Center in Jerusalem's Ein Karem for treatment.

The rest of the force was able to complete the mission and arrest the wanted man.

IDF troops leaving the refugee camp

The IDF is investigating the incident.

The IDF official said that "the terrorist who dropped the marble slab was not arrested. The force didn't open fire at the source and didn't identify it."

He rejected claims changes had been made to the rules of engagement, noting "The reason the soldiers didn't open fire at the terrorist who dropped the marble slab was because he was not identified."

This was not an unusual occurrence. IDF troops operating in the crowded Palestinian camps often come under attack, with heavy objects thrown at them, including furniture and even washing machines.

The operation, which is based on Shin Bet intelligence, is part of the IDF's Judea and Samaria Brigade's wide scale activity to thwart attacks during the month of Ramadan, after recent years saw many deadly attacks during the Muslim holiday.

The IDF official explained that "despite the relative quiet, in reality there has been an increase in popular terrorism and shooting incidents since the beginning of Ramadan last week. Our mission is to thwart the attacks deep in the field before the terrorists can come in contact with civilians."