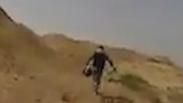 Hamas footage of infiltration
Hamas television station publishes footage of border infiltration
Al-Aqsa TV, run by terror group, releases footage of 4 Palestinians crossing security fence in southern strip, setting fire to IDF post; infiltrators said to have left behind tent with writing, 'March of Return. Returning to lands of Palestine'; IDF fired at infiltrators, but they returned to Gaza unharmed in incident that lasted less than one minute.
Hours after four Palestinians crossed the security fence in the southern Gaza Strip and threw a Molotov cocktail, Hamas's official Al-Aqsa TV station published footage of the incident.

Footage showed the four crossing into Israeli territory and lighting an IDF post on fire using an incendiary material, and then fleeing back into the strip.

Hamas footage of the Palestinians' infiltration

An IDF force that spotted them arrived and fired warning shots. The IDF initially reported that the suspects burned a tire on Israeli land, but later recanted the claim.

Apart from the incendiary bottle, it was reported the suspects left a tent in the field bearing the writing, "March of Return. Returning to the lands of Palestine." It was further communicated the entire incident lasted less than a minute.

On Friday, an explosive device was thrown at an IDF force north of the Gaza Strip border, as the weekly protest resumed once more. No one was hurt.

IDF footage of the incident (צילום: דובר צה"ל)

With dwindling numbers, some 5,000 Palestinian protesters gathered in two locations along the Gaza border security fence. They threw rocks at Israeli forces and burned tires, with the IDF deploying crowd control measures. Attempts to sabotage the fence were also documented.

IDF forces were also deployed en masse in the West Bank, and have been working in coordination with Shin Bet, Civil Administration, Border Police and Israel Police forces to allow worshipers to participate in the Ramadan Friday prayers while defending Israeli communities and roads and maintaining order and security in the sector.

Consequently, some 87,000 Palestinians passed through the different crossings from the West Bank into Jerusalem Friday to participate in Ramadan prayers. Some 8,000 Palestinians, meanwhile, visited the Cave of the Patriarchs in Hebron for prayers.