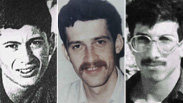 Feldman, Katz, Baumel (L-R)
Insurgents excavated graves in a cemetery in a refugee camp in the Syrian capital Damascus in search of the remains of three Israeli soldiers who have been missing since Israel's invasion of Lebanon 36 years ago, a Syria-based Palestinian official said.

Anwar Raja of the Popular Front for the Liberation of Palestine-General Command said the bodies of the three Israeli soldiers, Zacharya Baumel, Zvi Feldman and Yehuda Katz, who have been missing since a 1982 battle in Lebanon were transferred to Syria after the incident.

Israel says that on June 11, 1982, five of its soldiers went missing in a battle near the Lebanese village of Sultan Yacoub close to the Syrian border. Several years later, two of the missing soldiers were returned alive to Israel in prisoner exchanges with Syria and the PFLP-GC. The fate of the remaining three is still unknown.

The Sultan Yacoub battle took place on the sixth day of the first Lebanon war, whose official name in Israel is Operation Peace for Galilee, in June 1982. Israel suffered 20 confirmed losses in the battle, as well as dozens of wounded. Six soldiers were unaccounted for, including Feldman, Baumel, and Katz.

The fate of the other three were later uncovered: One of them turned out to have been killed in the battle and buried in Syria, with his body being returned to Israel after the war; another was captured by the Syrians and freed two years later; and the third was captured by a terrorist organization and freed via a prisoner exchange deal that took place three years later.

Last week, Syrian troops regained control of the Palestinian refugee camp of Yarmouk from members of the Islamic State group after a month long battle. Before IS took the camp, several insurgent groups had a presence there including al-Qaida-linked gunmen.

Raja said the insurgents' aim was to find the remains of the soldiers and transfer them to Israel. The refugee camp is home to the old Martyr's Cemetery where Palestinian fighters and commanders are buried. He said all tombs in the cemetery were excavated.

Raja added that Syrian security forces, while examining the belongings of gunmen being transported to northern Syria earlier this month, arrested a woman and confiscated two bags of soil she was carrying, apparently from the cemetery, and sent them to authorities for DNA analysis.

"This demonstrates that (the insurgents) are keen to determine whether the Israeli soldiers were buried in this cemetery," he said, denying reports that the bodies were ever buried in it.

The department in charge of Israelis missing in action, or MIA, in the Israeli prime minister's office refused to comment.

Rajas said IS and other insurgents dug up the past years' graves in search of the remains.