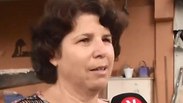 Naomi Fletcher whose home was hit
Photo: Barel Efraim
'We had a great miracle,' says woman whose home was hit by rocket
'You can see the hole that created in the roof of the shed and the floor tiles that were ripped from place and landed on the grass,' says Naomi Fletcher after rocket hit just a meter from her bedroom; others in Gaza border communities go through a difficult night as well: '5-year-old Hadar knows the difference between good booms by IDF and bad booms from Code Red.'
Naomi Fletcher, whose home suffered a direct rocket hit early Wednesday, said it was a "great miracle" no one was hurt.

"We heard explosions (during the night), but we didn't hear the rocket hit," Fletcher told Ynet on Wednesday. "In the morning, I got up and went outside, and then I saw debris on the floor. We thought it was cats who went wild and broke things, but then I saw the rocket."

Naomi said the house's doorpost and the entrance to the storage shed were damaged. "You can see the hole that created in the roof of the shed and the floor tiles that were ripped from place and landed on the grass. You can see debris everywhere," she said.

The Fletchers' bedroom is only a meter away from the storage shed, which was heavily damaged in the rocket strike. "We don't normally sleep in the safe room. I think we had a great miracle, because it didn't hit the house itself, but rather an adjacent storage shed."

Eyal, the community's spokesman, lamented the fact that "our children unfortunately have a lot of experience and many suffer from trauma. You have to understand that even a child who undergoes a long treatment and begins getting back to normal—every incident like this takes him back months and years. We're a small and strong community, we'll support the children. Our job is to be here and grow, prosper. We're here to win."

The Fletchers were just one of many families living near the Gaza border who had a tense night after a day of ceaseless barrages of rockets from the strip.

"Even if there are only two or three (Code Red) rocket sirens, and even if the Iron Dome intercepted, 25,000 people are still getting up and running to safe rooms," said Adina Ozeri, 34, a mother of five from Sderot.

"Even if no one is hurt, and even if Hamas stops the rockets, this period is still causing the kids regression," added Ozeri, whose eldest is 13, while her youngest is only five months old.

Despite the difficulties, she stressed there was no fear in her family—only the normal anxiety expected when dealing with such a situation. "The safe room is a place of strength, an island of stability and safety for the children in such times. We're not sinking into depression or feeling like life had stopped, but we are doing everything we can to feel safe and sane in an insane reality," Ozeri explained.

"The children are on high alert, and it must be stressful. They won't sleep anywhere but in the safe room, but there's room for only four people there, and I have to figure out where to put the baby," she went on to say.

"We should get stop saying 'no one was hurt and no damage was caused.' Of course there was damage. The emergency center in Sdeot was like an ER on Tuesday, filled with children suffering from anxiety," Ozeri noted.

Not far from Sderot, Einav Bar'am, 34, from Kibbutz Nir Am, was trying to find a solution for her three children: 7-year-old Shoham, 5-year-old Hadar and one-year-old Rotem.

"The past 24 hours have been very complicated," Bar-am admitted on Tuesday evening. "It started last night with Code Red sirens. At 7am, we received news alerts about sirens in other communities, and then we heard Iron Dome interceptions. Shoham, my eldest, was hysteric. It was very hard on her. Hadar, the middle child, knows the difference between 'good booms' by the IDF and 'bad booms' from Code Red."

She went on to say that the family of five "spent the entire afternoon in the safe room. We left for a moment, and then went back. We tried to get the middle child in and out of the shower quickly, so she's not in there when the Code Red goes off. It happened to her once, and she was very frightened."

She lamented the fact that "Four years later, an operation and then another. This place is beautiful, but that changes in an instant," adding, "I hope the decision-makers in this country know where they want to go."

Yoav Zitun, Matan Tzuri, Ilana Curiel and Inbar Tvizer contributed to this story.