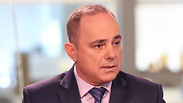 Energy Minister Yuval Steinitz
Photo: Avi Mualem
Steinitz: Assad lying about Iranian presence in Syria
After interview with RT in which the Syrian president claimed there are no Iranian forces in his country, Israel's energy minister hits back, saying 'This isn't the first time Assad has lied' and adding 'We're determined to prevent' Iran from turning Syria into base against Israel.
Energy Minister Yuval Steinitz accused Syrian President Bashar Assad of lying on Thursday after the embattled leader claimed in an interview that there were no Iranian forces in his country.

"There are Iranian forces and there is Iranian presence in Syria, everybody knows that. Iranian troops and even a general were killed in Syria, both recently and in the past," Steinitz told Ynet in an interview.

"This isn't the first time Assad has lied. He also said there were no chemical weapons in Syria, and that he never used chemical weapons—and we know the truth behind that," he went on to say.

Meanwhile, Defense Minister Avigdor Lieberman was in Moscow on Thursday to meet with his Russian counterpart Sergey Shoygu and discuss the situation in Syria and Iranian presence there.

Steinitz called Assad's claims in the interview with Russia Today "cheap propaganda."

"Assad allowed the Iranians, Hezbollah and the Shiite militias supported by Iran to enter Syria. Furthermore, recently, an Iranian drone infiltrated Israel—coming from Syrian territory—and was shot down. Who operated it? Where did it come from?" the minister said.

"We know Iran has a plan to take advantage of the civil war in Syria to turn it into its military base against the State of Israel, and perhaps even against the entire region. We're determined to prevent this," he added.

Steinitz asserted Iran should be stopped from entrenching itself not just in the Golan Heights near the Israeli border, but everywhere else in Syria as well.

"We've established a policy several years ago that we do not interfere in the civil war in Syria, unless there is a direct threat to us—meaning if Iran is starting to build military bases or there are smuggling of precise long-range weaponry to Hezbollah. In such cases, we would act. This is what we've done in the past and I think it's a very calculated and reasonable policy," he explained.

"Assad is a dangerous ruler to us and to the entire region," Steinitz continued. "It's a disgrace to the international community that he's still in his seat after having murdered hundreds of thousands of civilians—including women and children—of his own people, including by using chemical weapons."

He noted that while Israel hasn't targeted Assad himself yet, "There are no understandings on that."

"But if Assad allows the Iranians to establish military presence in Syria, or renews his nuclear weapons programs, I don't think Israel could ensure his immunity," Steinitz added.