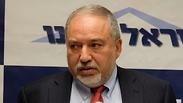 Defense Minister Avigdor Lieberman
Photo: Yoav Dudkevitch
Lieberman says Israel won't accept burning kites becoming the norm
Speaking at a Yisrael Beytenu faction meeting, defense minister says 400 of 600 incendiary kites have been intercepted by IDF, while the rest have damaged 9,000 dunams of crops and forests; vows to settle scores with Gaza terrorists, and 'not abandon anyone' in south Israel.
Defense Minister Avigdor Lieberman said Monday that Israel is not prepared to accept a reality in which incendiary kites are flown over into the country from the Gaza Strip on a daily basis.

"We should be clear that we are not prepared to accept the kites becoming normality. The same applies for riots on the border fence and attempts to breach it and cause damage to the sovereign territory of Israel," Lieberman said during his remarks at the Yisrael Beytenu faction meeting.

His comments were made as southern Israel residents have been forced in recent weeks to endure an upsurge in the number of flaming kites being flown across the border, causing huge fires that have incinerated agricultural areas and destroyed wildlife.

"That's why we will act in accordance with Israeli interests in time and at a timing that suits us, whenever we decide," he warned. "In any event, I am not in the custom of leaving scores unsettled and we will settle all scores with Hamas and Palestinian Islamic Jihad."

According to the defense minister, 600 such kites have been sent from the strip so far, while 400 have been intercepted by Israeli security forces using technological means.

"Two-hundred succeeded in reaching our territory and they burned 9,000 dunams of crops and forests," Lieberman said.

Regarding the northern border, Lieberman echoed Israel's policy which has repeatedly been articulated by Prime Minister Benjamin Netanyahu.

"My position is totally clear. We want a clear arrangement whereby Iran is not present on Syrian soil," Lieberman stated.

Asked whether southern Israeli residents feel that their plight has been subordinated to the Iranian issue, Lieberman demurred.

"I don't think there is that kind of feeling. I spoke with the heads of the councils bordering Gaza and I think they understand our moves," Lieberman opined. "We speak to them every day, as does the IDF chief of staff and the GOC of Southern Command. They know exactly what we're doing and like I said, we won't be abandoning anyone."

The last fire to have erupted as a result of the incendiary kites swept through the Shokeda Forest in southern Israel on Sunday evening after one was flown over the Gaza border by Palestinian terrorists.