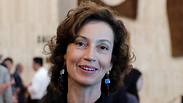 Audrey Azoulay, UNESCO's first Jewish director general
Photo: AFP
UN releases first education guide on fighting anti-Semitism
UNESCO's first Jewish director-general, Audrey Azoulay, says 'Europe's Jewish communities sense a renewed danger of anti-Semitic attacks'; initiative to publish guide comes after Israel threatened to leave organization in light of controversial votes.
The United Nations has released its first ever guidelines on fighting anti-Semitism in education.
UNESCO, the UN's cultural body, launched the publication on Monday in Paris in collaboration with the Organization for Security and Co-operation in Europe, the OSCE.
The guide, aimed to be used by young people, the teaching world, as well as political leaders, was presented by Audrey Azoulay, UNESCO's first Jewish director general.
Azoulay said that the need for an educational guide has become imperative in today's schools, universities, and other educational institutions.
"Many Jewish communities across the world are facing increasing threats. (Jews) have become targets for terror attacks in Paris, Brussels, and Copenhagen," she elaborated.
"Fear of anti-Semitism, harassment, and even physical assault has grown particularly near Jewish culture centers, religious sites including synagogue, museums, and schools," Azoulay lamented.
"This is a warning call for those who survived the Holocaust. Europe's Jewish communities sense a renewed danger of anti-Semitic attacks," UNESCO's first Jewish director general warned.
"Anti-Semitism is neither the problems of the Jewish communities, nor it requires the communities to deal with it. Anti-Semitism exists in religions and diverse political groups ranging across the entire political spectrum. It is a symptom of a wider social or political problem that indicates tendencies of (social) regression which dangerously harms the social fabric," she added.
UNESCO's director general also underlined that anti-Semitism is usually accompanied by additional displays of hatred, which are based on differences between the sexes as well as on fear of homosexuality.
Azoulay added that training educators who are capable of dealing with live discriminative phenomena in educational institutes with the help of the practical guidelines presented in the guide, is the way to fight it online as well.
UNESCO said the guide provides tools to strengthen the resilience of young people to anti-Semitic ideas and violent extremism, such as how to respond to anti-Semitic acts and words in school settings.
It also familiarizes educators with anti-Semitic stereotypes and conspiracy theories as well as developing media skills to help students resist manipulation.
The guide's focuses on three main issues—the connection between anti-Semitism and other human rights matters, encouragement of critical thinking as a means to deal with anti-Semitic contents, and the connection of anti-Semitism and other discriminative groups on the backdrop of religion, ethnic origin, sex and sexual tendency.
In the chapter of "Fighting anti-Semitism through education—guidelines for policy makers," applicable specific instructions of how to battle anti-Semitism as part of human rights promotion are presented as well as ways to protect the young generations from being influenced by anti-Semitic ideas.
Personnel from the Anne Frank House in Amsterdam and the Simon Wiesenthal Center in the United States were among those who advised the UN on writing the guide.
The guide is about 100 pages long and is displayed on the UN's website.
Israel had declared its desire to withdraw from UNESCO in 2017 claiming the organization is biased against it following the controversial statements about the Western Wall and the Cave of the Patriarchs issued by UNESCO.
The US was the first to announce it is leaving UNESCO in the wake of the ongoing discrimination against Israel.
UNESCO's initiative to release an education guide meant to fight anti-Semitism seems as an attempt to turn over a new leaf on its relationship with Israel.