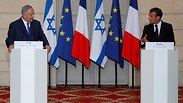 PM Netanyahu and President Emmanuel Macron
Photo: Reuters
In France, Netanyahu denies asking Macron to exit Iranian nuclear deal
In second day of whirlwind visit to Europe, Israeli PM says he did not focus in discussions with President Macron on beseeching France to leave the deal because he believes 'economic realities will decide the matter', but he maintains that 'now is the time to apply maximum pressure on Iran', adding that it 'has no business' being in any of Syria.
Prime Minister Benjamin Netanyahu said Tuesday evening that "now is the time to apply maximum pressure on Iran" to make sure that it never acquires a nuclear weapon, but insisted that Israel never tried to convince France to withdraw from the Iranian nuclear deal.

Flanked by French President Emmanuel Macron in a joint press conference in Paris, the Israeli premier began by extolling the values shared by their respective countries, before turning his focus to the threats posed by Iran.

"I want to make it clear that I did not ask President Macron to leave the deal. I think that economic realities are going to decide this matter so it's not what we focused on, actually," Netanyahu said. "What we focused on, and what I focused on was to stop Iranian aggression in the region."

PM Netanyahu speaks in Paris about Iran (רויטרס)

A precondition for peace in the region and for a reconstructed Syria, Netanyahu said, was that "Iran leaves Syria, all of Syria. It has no business being there."

Netanyahu also claimed that the content of the Iranian nuclear deal, present or future, is less of a concern for him than preventing Tehran from building the bomb.

"My interest is not this or that agreement. My interest is to make sure that Iran doesn't have nuclear weapons," the prime minister said when the floor was opened for questions.

"I didn't ask France to withdraw from the JCPOA (The Joint Comprehensive Plan of Action, commonly known as the Iran deal) because I think it is bascially going to be dissolved by the wave of economic forces," he reiterated in response to a question from a journalist.

"We're doing everything we can to prevent the aggressive designs of Iran which will ultimately destabilize not only the Middle East in their effort to conquer the Middle East but destabilize Europe and the world," Netanyahu said while reminding the French president of terror attacks that have struck France and claimed 250 lives.

Iran, the prime minister insisted, was not only bent on developing nuclear weapons, but also moving other weapons to Syria from which to target Israel, a situation he said "we cannot accept."

"I want to say that this position is common right now across the Middle East, not only for us Israelis but also many of the Arab countries there who are themselves threatened by Iranian aggression."

Netanyahu also addressed the deadly violence that in recent weeks has been gripping the Gaza border, in a bid to debunk the notion that Israel has killed peaceful protesters.

"What you've seen in recent weeks are not peaceful protests. These are violent riots that are organized by Hamas. They're using human shields ... They want to kidnap Israelis, they want to murder Israelis. These protests are organized by Hamas, they're paid by Hamas and they are seeking to storm into Israel, capture civilians or soldiers right near the fence," Netanyahu continued.

"They burn our fields.These are not civilians … This is not what it appears and it is something we have the right to defend ourselves against," he insisted.

Other unnamed Arab countries in the region, Netanyahu said, were growing tired of the conflict, and recognized a convergence of interests with Israel both in security and economic progress.

"Here too, I think that there is a change of attitude in certain parts of the Arab world because they understand this. They're sick and tired of this war against Israel, of this attempt to destroy Israel. They understand that there is a potential partnership with Israel" both against Iran and other threats and for a "better future."

"I think that you should know that they are happening under the surface. There is a change," he said.

Speaking before Netanyahu, Macron said France will continue to work with the existing deal, which it considers the best way to control Iran's nuclear activity. The French president said he doesn't see how exiting the nuclear deal would help improve regional stability.

How can one "think that a total absence of controls and commitments is better than the 2015 framework?" he asked.

Iran informed the UN nuclear watchdog on Tuesday that it will increase its nuclear enrichment capacity within the limits set by the 2015 agreement.

Macron on Tuesday also raised the issue of the Palestinian territories, expressing his "condemnation of any form of violence toward civilians and in particular, these past few weeks in Gaza."

Both leaders then headed to the nearby Grand Palais to inaugurate an exhibit on Israeli innovations, as part of a series of events commemorating the 70th anniversary of Israel's founding.

A few dozen protesters appeared on the city's Champs-Elysees Avenue near the exhibit site to demand the cancellation of the events and to denounce what they called Israel's "war crimes."

French police were out in force around the Grand Palais, breaking up groups of protesters.

Netanyahu started his European trip in Berlin on Monday. After his French visit he heads to Britain to meet with Prime Minister Theresa May in an effort to rally support from allies against Iran.