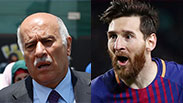 Jibril Rajoub and Lionel Messi
Photo: Reuters, AP
PA in show of support for Argentina: 'From Palestine, thank you Messi'
Palestinian Football Association head Jibril Rajoub slams Culture Minister Miri Regev for mixing sports and politics following Argentine team's decision to cancel its friendly with Israel on Saturday, thanks players for 'following their conscience.'
Palestinian Football Association head Jibril Rajoub said Wednesday that the Argentine team's decision to cancel its friendly with Israel on Saturday was the right thing to do, thanking the players for "following their conscience."

Speaking at a press conference at the Joseph Blatter Academy in the West Bank city of Al-Bireh, alongside a photo of him and Argentine football star Lionel Messi and the caption "From Palestine, thank you Messi," Rajoub slammed the Israeli culture and sports minister.

"Miri Regev should draw the conclusions: Mixing milk and meat leads to an undesirable situation for everyone," he said. "She made a big mistake. It won't help her. I hope she understands. I think Messi and the rest of the Argentine team players respected their principles, and I thank them. They followed their conscience. Messi would have been the first to lose if the game had taken place."

Rajoub went on to praise Argentina. "The Argentine FA decided not to hold the game at the Jerusalem stadium, and we at the Palestinian FA thank the Argentine FA, the team's coach and all the organizations that are active for human rights and solidarity with the Palestinian people, which pushed for the cancellation of this game. The Israeli government made an effort to hold this encounter quickly, regardless of football, of human rights and of international legitimacy."

The Israelis, he said, "insisted on moving the game from Haifa to Jerusalem to mark 70 years of Israeli independence, Jerusalem's unity and the US Embassy's move to Jerusalem against international law… On behalf of all these reasons, we at the Palestinian FA made every effort from day one, as part of the FIFA's rules and regulations. We made a decision that this should be disconnected from any political motive. International law sees east Jerusalem as an issue that should be solved through negotiations. This is an area located outside the internationally-recognized areas of the State of Israel."

Rajoub said Israel should have moved the match back to Haifa. "I'm not talking about who defeated who. That's not my approach. I was hoping that the head of the Israeli FA would be a man, that he would stand up and say to the Israeli government, 'Stop mixing politics and sports.' I didn't hear him even once condemn the way they are treating our players or the FIFA officials visiting us.

"Miri Regev is responsible for this disaster, if that's what you're calling it. Stop supporting the racist, fascist regime led by Miri Regev and Bibi (Prime Minister Benjamin Netanyahu). I was hoping that the Israeli side would keep politics away from sports. So I'm saying to the Israeli Right and to Regev: This is what you deserve."

He added that the Palestinians couldn't have gotten the game cancelled if it had been held in the Sammy Ofer Stadium in Haifa. "I said that if the even had been held in Haifa, I would have been unable to convince someone to cancel it from a legal perspective. Bibi thinks he is leading the entire world. So I think that's where the process began which threw the Israelis into this distress. (Israel FA President) Ofer Eini and his association don't scare me. He should look in the mirror and understand what his job is. Your culture minister is the most racist person in the world."
PM Netanyahu: We're moving on, guys
Rajoub wished Argentina's national team success in the World Cup. "We call on all members of the UN General Assembly to reject the attempt to mix sports with politics, to avoid supporting the fascist Right controlling Israel," he said. "We have established a committee with all relevant officials and received legal aid from a law expert from the PLO's negotiations department."
Rajoub added that the Palestinians had not spoken to the Argentine FA, but only to FIFA. "We asked them to keep politics away from sports. The international opinion moved in our favor," he said.
Palestinians celebrated the cancellation on Tuesday night. In Gaza, people cheered and in Ramallah in the West Bank, the Palestinian Football Association issued a statement thanking Messi and his colleagues for cancelling the game: "The Palestinian FA thanks Argentina's players led by star Messi for refusing to be used to serve a non-sporting goal."
It's possible, however, that the Argentine team had no intention of coming to Israel in the first place, regardless of the BDS pressure. Ynet has learned that the team made a decision in principle not to hold the game in Israel several days ago. The Argentines didn't even inform the organizers when they planned to arrive in Israel from Barcelona, where they are holding training sessions ahead of the World Cup, which will kick off in Russia next week.
Prime Minister Benjamin Netanyahu briefly addressed the match's cancellation on Wednesday before leaving Paris on his way to London. "We're moving on, guys," he said.