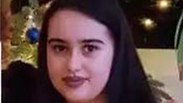 The 1,000-strong Jewish community of Mainz in Germany has expressed shock over the rape and murder of a 14-year-old Jewish girl by a suspected Iraqi asylum seeker, which has left her family "destroyed."

Susanna Feldman was found dead on Wednesday in a wooded area near train tracks in Wiesbaden on the opposite bank of the Rhine, near a refugee center where the suspected attacker lived, according to police. An autopsy showed she had been the victim of a sexual and violent attack.

"Our community is in shock. We are trying to help the girl's family," said Mainz's community Rabbi Aharon Ran Vernikovsky in an interview with Ynet.


While Feldman was Jewish, police said there was no evidence her religion was a factor in the crime, and the Central Council of Jews in Germany cautioned against attributing any anti-Semitic motive to her attacker.

Police said the Iraqi suspect, whom they identified as Ali Bashar, appears to have left abruptly with his family last week, flying to Erbil, Iraq via Istanbul using fake names. He was a suspect in a string of previous offenses in the area, including a robbery at knifepoint.

A Turkish man who wasn't previously known to police was also arrested in the latest high-profile case involving migrants.

Feldman went out with her friends two week ago in Wiesbaden 17 kilometers from Mainz, which is located near Frankfurt, and was not seen since. According to initial police assessments, she was sexually assaulted and then choked to death by Bashar, who is believed to have been in a relationship with Feldman.

"Susanna was a member of the community," said Rabbi Vernikovsky. "Her father is not Jewish. He left the family at some stage and now her mother lives with a partner who is also not Jewish. I have come to comfort the family and I have found that it is destroyed. The mother is in complete shock.

"The religious community here is a minority. Generally Jews in the city lead quiet lives. There are immigrants in the city as there are in all other cities in Germany, and there were never any problems with them. Susanna had no Jewish appearance," he noted

Officials involved in the ongoing investigation say that the teenager text her mother shortly before she was reported as missing, telling her that she was alright and that she should not come looking for her.

The girl was last seen alive at the refugee center, broadcaster ARD reported. ARD said Bashar was known to police because he had become violent with officials over his asylum status, and had previously been suspected in the rape of an 11-year-old girl at the refugee home, although an investigation was inconclusive.

The Central Council of Jews in Germany said: "Many of the details of the case are still unclear. We expect a rapid and comprehensive investigation from the prosecutorial authorities, and hard consequences for the perpetrator or perpetrators."

The Council has warned in recent months about an increase in anti-Semitic incidents, and the German government has created a new post to fight anti-Semitism.

Some German Jews have expressed concern about a perceived rise in anti-Jewish prejudice with the influx of mainly Muslim migrants, although German police blame most anti-Semitic incidents on followers of the German far-right.