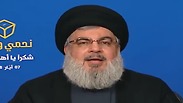 BEIRUT - Lebanon's Iran-backed Hezbollah will remain in Syria as long as Syrian President Bashar Assad wants it there, the group's leader said on Friday, defying renewed US and Israeli pressure to force Tehran and its allies to quit the country.

"I will tell you that if the whole world comes together to force us to leave Syria, they will not be able to evict us," Sayyed Hassan Nasrallah said in a televised address to hundreds of supporters who gathered in the village of Maroun el-Ras on Lebanon's border with Israel to mark Jerusalem Day.

He added that only the Syrian leadership could ask them to leave.

"Israel wants to change the campaign against Syria. Now it's interested in getting Iran and Hezbollah out of Syria. Zionists, admit you failed in the campaign and in the attempt to hurt the axis of resistance in Syria," the Hezbollah leader said.

He claimed Hezbollah went to Syria "for two reasons: The first - the belief that what's happening in Syria is a big plot against the axis of resistance, which is aimed at having Syria fall into the hands of its enemies. The second - the Syrian leadership asked us to come."

"Hezbollah has no private plans concerning Syria. It's not interested in interfering in the internal affairs of Syria, and it doesn't want a cut of the Syrian economy," he insisted.

Nasrallah also insisted Israeli claims that Iran is planning to resume uranium enrichment to wipe out six million Jews in Israel are lies. Iran and its allies don't want to kill Jews, he added.

"I tell the occupying and invading Zionists - board your planes and ships and go back to where you came from," the Hezbollah leader said, adding that "if they insist on occupying Palestine, a great war will erupt and liberate all the occupied Palestinian territories."

"The day of the great battle" in the Middle East is coming, he said, as is the day "when we will all go and pray in Jerusalem."

Israel has repeatedly struck Hezbollah and Iranian targets in Syria, saying they must leave the country, with which it shares a border. Washington has also demanded that Iran and forces it back quit.

Alongside Russia, Iran-backed forces in Syria have helped Assad drive rebels from the country's biggest cities and reclaim swathes of the eastern deserts from Islamic State.

Russia has recently called for all non-Syrian forces to leave southern Syria, a statement seen as partly aimed at Iran, as well as at US forces in a base near the Iraqi border.

Senior Syrian officials have said they want to recapture the rebel-held areas in the southwest near the border with Israel. Israeli strikes in Syria are partly aimed at keeping Hezbollah and other Iran-backed forces from its border.

This week, a Russian troop deployment near the border with Lebanon caused friction with Iran-backed forces there including Hezbollah, a rare case of Assads' allies acting out of sync with each other, though it was soon resolved.

In his speech Nasrallah mocked the idea that US, Israeli or Gulf pressure was forcing a wedge between Russia and Iran on Syria.

The Associated Press contributed to this story.