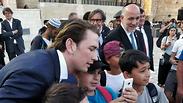 Austrian Chancellor Sebastian Kurz with Israeli children at the Western Wall
Photo: Avi Ohayon/GPO
Austrian chancellor meets Holocaust survivors, poses for selfie at Western Wall
During first day of his official visit to Israel, Sebastian Kurz invites Austrian survivors to Vienna, says 'we have a responsibility not to forget the Nazis' horrible acts and to fight any form of anti-Semitism'; later, he visits Yad Vashem and former President Peres' grave and tours Jerusalem's Old City.
Austrian Chancellor Sebastian Kurz landed at Ben-Gurion Airport early Sunday, after flying in economy class, for his first visit in Israel since taking office.

During his first day in the Holy Land, Kurz met with Austrian Holocaust survivors, toured the Old City of Jerusalem and posed for a few selfies with children.

The chancellor invited the Holocaust survivors to visit Austria this year, saying his government would pay for the trip. He also invited them to visit the chancellor's office in Vienna.

One of the most emotionally moving moments of the meeting was when a Holocaust survivor showed the chancellor her passport from her time at the concentration camps.

Earlier, Kurz visited Yad Vashem and laid a wreath at the Hall of Remembrance. He also visited the Valley of the Communities and honored Jewish communities which were annihilated during the Holocaust.

Two agreements were signed between Yad Vashem and the Austrian education ministry during the visit to train Austrian educators to teach the Holocaust and to cooperate in the field of archives. The agreement will give Yad Vashem access to the Austrian State Archives for the purpose of Holocaust research.

"I visited Yad Vashem together with Holocaust survivor Victor Klein and with the president of Vienna's Jewish community, Oscar Deutsch," Kurz twitted. "It's always exciting to be there. We have a responsibility not to forget the Nazis' horrible acts and to fight any form of anti-Semitism."

Kurz later visited Jerusalem's Old City and the Western Wall. During his visit to the holy site, he met Israeli children and posed for a selfie with them.

The Austrian chancellor also visited Mount Herzl and laid a wreath on the grave of former President Shimon Peres, whom he had met several times and whose funeral he attended in 2016.

At the gravesite, Kurz shook hands with Peres' grandson Nadav and told him: "I admired your grandfather. He was a leader and a role model to me. I always drew inspiration from him on how to advance huge enterprises for your country, as he did for the State of Israel. He was an inspiration to us all.

"When I was foreign minister," Kurz said, "Peres hosted me at the garden of the President's Residence. As we walked through the garden, he explicitly told me, 'The world belongs to the young. Don't be afraid of your young age and advance great things for your people.' I am grateful for the importance your grandfather ascribed to strengthening the relations between Israel and Austria."

At the end of their meeting, the chancellor invited Peres' grandson to visit Austria as his personal guest.