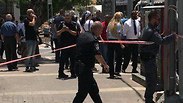 18-year-old girl stabbed in Afula, Palestinian suspect arrested
Young woman collapses near a café in the northern city after telling passersby she was stabbed by an Arab; Magen David Adom paramedics rush her to hospital in serious condition; police spot 20-year-old Jenin resident fleeing scene, shoot him in the leg and detain him in possession of a knife.
An 18-year-old girl was stabbed in the northern city of Afula on Monday. She managed to take a few steps before collapsing near a café in the city center.

The young woman, a student from Migdal HaEmek, told passersby several times that she had been stabbed by an Arab man. A Palestinian suspect was arrested about an hour later.

Afula residents posted pictures and videos showing the suspect's alleged arrest. The police confirmed later on that forces had spotted a suspect who refused to stop and began fleeing the scene until he was shot in the legs.

The suspect, 20-year-old Nur Shinawi of Jenin, was apprehended in possession of a knife.

He was interrogated by the Shin Bet and initial details revealed that he was an illegal resident and had no security-related record.

The Afula hospital said he was in moderate condition, suffering from wounds in the lower part of his body.

The police said all leads were being looked into, including a suspected terror attack.

The moment of the arrest

The girl was stabbed at a bus stop on Afula's Arlozorov Street and managed to walk several meters towards the nearby café.

"We were sitting at Café Aroma," eyewitness Yossi Levy recounted. "At around 11:50am, I saw a girl with a skirt running, and suddenly she fell down near the pedestrian crossing. She fell on the sidewalk and her bag fell off. Then we heard her murmuring, 'I was stabbed, I was stabbed. The Arab stabbed me.' She didn't say anything else."

Menashe Baruch, who was sitting next to him, added that one of the paramedics had asked him for help. "I ran to the ambulance and grabbed a pair of gloves. We saw she had one wound in the shoulder and significant wound in the back. The paramedic and I asked her, 'Who stabbed you?' and she said, 'An Arab stabbed me.' He asked her, 'Are you sure it was an Arab?' and she said, 'Yes, yes, an Arab stabbed me.' She repeated it several times."

"When we arrived at the scene there was a great commotion," one of the paramedics said. "A girl, about 18 years old, was sitting on a chair at the entrance to a store. She was conscious and had a number of bleeding wounds in the upper part of her body. We offered her life-saving initial medical care to stop the bleeing and evacuated her to the nearby HaEmek hospital."

Hospital officials defined her condition as "very serious" and said she had lost a lot of blood. After her condition stabilized, she was transferred to the hospital's intensive care unit.