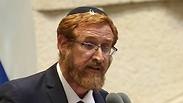 MK Yehuda Glick
Photo: Gil Yohanan
MK Yehuda Glick (Likud) launched a hunger strike Tuesday morning, which he intends to continue until Finance Minister Moshe Kahlon (Kulanu) raises the tax on loose tobacco for roll-up cigarettes so it is equal to the tax on regular cigarettes, in accordance with international and domestic health organizations' demands.

Over the past three years, despite repeated requests, Kahlon has refused to increase the tax on loose tobacco. Every time he was asked about this issue by Glick in the Knesset, Kahlon's reply was always that the tax increase contradicts his economic policies.

"Several minutes ago, two women stood here and asked to us to observe a minute of silence in memory of (several) women that died. Who will stand up in memory of 8,000 people that have died this year because of smoking? Don't they matter?" Glick said at the onset of his remarks.

"World health organizations have asked the State of Israel to raise the taxation on loose tobacco to equal regular cigarettes, and Mr. Finance Minister has dismissed it. The Finance Committee along with its chairman Moshe Gafni (United Torah Judaism), voted unanimously in favor of increasing the tax on loose tobacco, because children can walk into a supermarket and buy tobacco, and the finance minister just keeps singing his tune."

"The Knesset's Labor, Welfare and Health Committee, under the chairman MK Eli Alaluf (Kulanu), voted unanimously in favor of the proposal, and Mr. Kahlon wants to tell them 'no.' The Knesset's Special Committee on Drug Abuse and its chairman MK Tamar Zandberg (Meretz) has invited the director-general of the Finance Ministry for talks and was told she will be informed about a new discussion regarding this issue when it takes place. Six months have passed since then and Minister Kahlon spits in our faces," Glick exclaimed.

Glick continued the charge, saying that the State Comptroller also demanded the tax increase in a report and "Moshe Kahlon doesn't care, he gives us the finger. The health minister is begging: increase the tax on the loose tobacco. But Kahlon keeps singing his tune."

Glick said that many children in eighth and ninth grade buy loose tobacco "instead of bamba" (a popular Israeli peanut snack) and added, "Finance Minister Kahlon has taken our children hostage because of his political interests."

"I believe in the Torah that says human life is above everything, I can't wash my hands clean of this issue anymore, I cannot say that my hands did not spill this blood, and so... I will go on a hunger strike until Minister Kahlon starts caring about our children," Glick concluded.