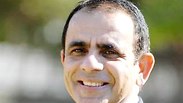 Holon's Deputy Mayor Yoel Yeshurun
Photo: Kobi Koankes
Holon deputy mayor calls homosexuals 'two-legged animals with distorted minds'
After being slammed in the media for his obscure views on LGBT community and Pride Parade, Yoel Yeshurun removes his homophobic Facebook post, but refuses to apologize; Holon Mayor Moti Sasson says he regrets his deputy's comments, which don't reflect the city's perception and policy.
Holon's Deputy Mayor Yoel Yeshurun, who serves as the dean of the Ashkelon Academic College, published a homophobic post on his Facebook page against the Gay Pride Parade and the LGBT community last week.

Yashurun lashed out at Tel Aviv's Mayor Ron Huldai, calling him "a wiry old man," whose Judaism is questionable, and claimed the media portrays "those crazy people" as the "standard-bearers (of liberalism)," although they are people of "darkness and barbarity coming from hell."

Yeshurun removed his offensive post on Sunday after withstanding harsh social media criticism.

"Tel Aviv has nurtured wild weeds, monsters resembling to those in the Jurassic Park movie whose small distorted minds orchestrated parades of two-legged vile repulsive animals," Yeshurun wrote.

"At the top of the tower stands a wiry old man, a gourmet-lover whose Judaism is questionable. He celebrates by eating dog meat, causing the Jewish people to hurl on his plate," he said.

"And the dog-eater's city? There, on Tel Aviv's streets those two-legged animals walk proudly, deeply disturbed, those who lay with men as well as ugly female animals with 'I'm a slut' tattoos!!!" he hatefully added.

Yeshurun accused the media of supporting the LGBT community and portraying them as freedom, liberty, and equality fighters.

"Hasn't the media understood yet it is representing only fragments of the population and most of the nation is revolted by these animal parades?" he charged.

When commenting on his malicious post, Yeshurun said, "I wrote this post on my private Facebook post, and I'm not taking back what I wrote."

"My words weren't aimed, not even by a hint, at the LGBT community, rather at the parades and their extraversion," he explained.

"The LGBT community itself criticizes those parades and the damage they do to its own struggle (for equality)," Holon's deputy mayor added.

Holon Mayor Moti Sasson said the post published on Facebook "is the deputy mayor's personal opinion, which of course doesn't reflect Holon and its mayor's perception and policy.

"We can only regret the things that were said," Sasson concluded.

The Ashkelon Academic College also issued a statement saying, "Yoel Yeshurun wrote his post on his private Facebook page. As a citizen in a democratic country, Mr. Yeshurun Is allowed to express his views and we don't see the need to intervene in the matter."

Holon City Council Member Israel Moran said Yeshurun's post was revolting and disgusting. "He said harsh, vile, and unacceptable things."

Two weeks ago, in anticipation of the Gay Pride Parade in Tel Aviv, a teacher employed in the secular Rafael Eitan high school in Ramat Gan asked his students to read the book of Psalms for "God to save us from the shame and the disgrace."

The teacher wrote in the Students' WhatsApp group: "Unfortunately, on Friday a great blasphemy will take place in Tel Aviv. We cannot do anything to stop it, but God will salvage us."

"Read a chapter of Psalms and we will be saved from the shame and disgrace," he asked his students.