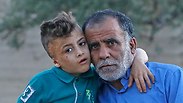 Hussein Dawabsheh and grandson Ahmed
Photo: Shaul Golan
Settler youth taunt Dawabsheh grandfather outside court
In video filmed outside trial of Jewish settlers accused of perpetrating Duma arson attack, youth heard shouting at Hussein Dawabsheh 'Ali was burned, where is Ali? Ali is on the grill' in reference to slain 18-month-old baby, adding 'It's too bad Ahmed didn't burn as well' in reference to Ali's brother.
Hussein Dawabsheh, whose family was murdered in an arson attack in Duma, suffered verbal abuse from right-wing settler youth outside the Lod District Court Tuesday, after it had ruled that the majority of confessions given by two alleged Jewish terrorists are admissible.

On July 31, 2015, Molotov cocktails were thrown at the Dawabsheh family's house in the village in the northern West Bank, killing an 18-month-old baby, Ali, and critically wounding his four-year-old brother and both parents. The parents, Saad and Riham Dawabsheh, later succumbed to their wounds.

MK Ahmad Tibi (Joint list) posted a video of the incident outside the court on Twitter, which gained many shares and comments from across the political spectrum.

Youths are heard shouting in the video, "Where is Ali? Where is Riham? Where is Saad? It's too bad Ahmed didn't burn as well."

Police officers and the ministers who were present at the court chose not to intervene, letting the demonstration of hatred and racism continue.
״איפה עלי? אין עלי . עלי נשרף . על האש . על הגריל עלי״ כל הטיחו בפנינו ובפני הסבא דוואבשה על נכדו עלי בן 18 חודשים ע׳י פרחחי תג מחיר.ממול עמדו שוטרים וקצינים ולא הנידו עפעף. אין מלים.. pic.twitter.com/a2GrHJe3Z7

— Ahmad Tibi (@Ahmad_tibi) June 19, 2018
In an interview with Ynet, Tibi described the difficult experienced. "As Hussein Dawabsheh—who is Ali and Ahmed's grandfather—was leaving the court, 20 young settlers, probably 'price tag' activists, gathered around him," Tibi recounted.

"As soon as they saw us—and several women demonstrating against the murder—the 'price tag' activists began shouting: 'Ali was burned, where is Ali? Ali is on the grill,' while dancing and rejoicing," he went on to say."Others began chanting those words. It's chilling. As I looked at the grandfather, my eyes teared up."

"After Ali and Ahmed's uncle Saad a-Nasser told them, 'Ali was just a child, and he is in heaven now,' they continued dancing and chanting 'Ali was burned,'" the MK continued.

According to Tibi, he asked the police officers outside the court to do something, but they responded with indifference. "What would have happen had the situation been reversed? If 20 Arab youths were shouting about a Jewish fatality 'he's on the grill, he's burning'? How many of them would have gone home with broken legs? How many would have been arrested?" Tibi wondered.

"Part of the reason it was horrifying was the police's indifference, like nothing had happened," he explained.

"They (the police) could have at least removed them from the court. (No need) to break legs. Legs are only broken to Arabs in Haifa, not to Jews. But they could have at least removed them," he added.

Tibi said that after posting the video, many Israeli turned to him and said they felt awful about the display of hatred outside the court.

"The coalition as well as the opposition expressed their disgust of what happened. But lo and behold—not a single minister (said anything), not Miri Regev, not Yisrael Katz, not Ayelet Shaked, not Naftali Bennett and in particularly not the prime minister, who knows how to retweet awful things. He remained quiet instead of condemning this sickening phenomenon," Tibi lashed out.