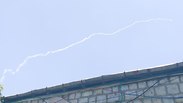 Missile trail above Safed
Photo: Elimelech Gerstel
IDF fires Patriot missile at drone flying into Israel from Syria
Military says it detected a UAV flying from Syria into the Golan Heights before it crossed the border, kicking air defenses into action; 'The IDF will not allow a violation of its sovereignty over the airspace of the State of Israel', military says, as Safed residents report seeing missile trail in the city's skies.
The IDF launched Patriot anti-aircraft in the northern Golan Heights at an incoming drone from Syria on Sunday.

According to the IDF, the unmanned aerial vehicle retreated unscathed following the launching of the missile, returning to an area controlled by Syrian President Bashar Assad's forces.

The Syrian army with the help of allied forces has been mobilizing troops and sending reinforcements in a widening military campaign to regain rebel-held territory near the area where the drone was targeted and along the border with Jordan.

Northern resident records missile trail

Iranian-backed militias are believed to be backing the Syrian army's offensive against a string of rebel held towns in Quneitra province near the Israeli border, according to a Western intelligence source.

"The drone is for operations in southern Syrian around where the battles are going on," a commander in the regional alliance supporting Assad told Reuters.

The southwest is of strategic concern to US-allied Israel, which has this year stepped up attacks on Iran-backed militia allied to Assad.

Israel says it will continue to target Iranian assets in Syria with the goal of forcing Tehran out of the war torn country.

"The air defense system, just like the detection system, identified the threat in advance, before it had crossed into Israeli territory," the IDF Spokesperson's Unit said in a statement shortly after.

"The IDF will not allow a violation of Israel's sovereignty and will act against any attempt to harm its citizens."

Residents in the northern Israeli city of Safed reported seeing a Patriot missile trail in the sky.

In November 2017, Israel fired a Patriot missile at a drone that managed to infiltrate Israeli airspace in the Golan Heights.

The drones are used for reconnaissance and gathering intelligence on Israel's northern border.

Reuters contributed to this report.