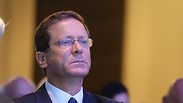 Incoming Jewish Agency's Chairman Isaac Herzog
Photo: Amit Shabi
Herzog : Israel-Diaspora rift must be mended
After being appointed the head of the Jewish Agency, Isaac Herzog says the greatest challenge he will face is mending the rift between Israel and the Jews in the Diaspora; he also calls on Netanyahu, who fought against Herzog's candidacy, to work with him.
The Jewish Agency's newly elected chairman Isaac Herzog said Sunday his biggest challenge will be to mend the rift between Israel and Diaspora Jews.
"The relationship between Israel and the Jews in the Diaspora have suffered a severe blow over the few past years, and we have to do whatever we can to mend them," Herzog told Ynet in an interview.
Herzog rejected claims the Israeli government is actively trying to create a rift with world Jewry, adding however that "when an Israeli minister says 'They are not Jewish,' he deeply hurts the hearts of millions overseas. They view Israel as the most important thing in their lives."
Herzog said he approached Prime Minister Benjamin Netanyahu, telling him that "The belief that the Jewish nation will vanish within several generations except for one chosen group is a bitter and unproven mistake. Spiritual wealth exists in everybody."
Netanyahu has yet congratulated Herzog on his appointment. "It's no secret there was tension (between us)," he said, adding however, "I know that when he wants to, he can work (with others)."
Herzog added he had to "fight a lot" against Netanyahu's objections to his candidacy. "Eventually I was chosen by right and not by sufferance," he said proudly.
The Jewish Agency's incoming chairman recalled that during his vacation in the US he had witnessed "something I referred to as a plague."
"I saw that my friends' children are married or are in relationships with non-Jewish partners, while their parents agonize over it and ask questions. We are talking about every (Jewish) family in the US, millions," Herzog said.
"There has to be a solution, we have to rack our brains and see how we solve this great challenge," he continued.
When speaking on his vision for the Jewish Agency, he said, "I can't guarantee 100 percent results, (however) I guarantee 100 percent effort to face basic issues such as the growing gap between Israel and the Diaspora."
"The Diaspora Jews are essential to the State of Israel and vice versa," he determined.
Herzog, who will be vacating the opposition head's seat to take on his new role at the Jewish Agency, said he was sad to see the internal rift within the Zionist Union Party over who will succeed him.
"I don't like what I'm seeing. I am trying to mediate and unify, since I think wars bring destruction," he explained.
Herzog argued that the party has to be a part of a bloc. "We can win the elections only by forming a wide bloc. We have to preserve the Zionist Union and use it as basis to establish more partnerships. We need to try and bring in additional political forces, such as Benny Gantz," he asserted.
"But primarily,the partnership with Hatnua Party and its head MK Tzipi Livni must be preserved," Herzog stressed, adding he thought Livni should replace him as opposition leader.