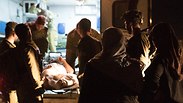 IDF forces transferring wounded Syrians into Israel
Photo: IDF Spokesman's Office
Six Syrians, who were moderately-to-seriously wounded in the battles between the Syrian army and rebels in the southern part of the country, were transferred by the IDF to hospitals in Israel for treatment over the weekend.

Among the Syrian wounded are four children aged 6 to 14, whose families were reportedly all killed in the fighting.

On Friday night, the IDF Northern Command's medical forces were called to the border fence in the southern Golan Heights, where they provided the wounded Syrians with life-saving initial treatment in the field.

IDF forces bring wounded Syrians into Israel for treatment (צילום: דובר צה"ל)

Troops from the IDF's 366th Division, also known as the Path of Fire Division, then transferred the wounded to hospitals in northern Israel in a complex operation.

According to the IDF, throughout the Syrian civil war, there has been a severe shortage of medical infrastructure, doctors and medicine. The IDF has been providing Syrian civilians caught in the crossfire with life-saving humanitarian aid, while at the same time avoids interfering in the fighting.

The IDF also said that since 2013, over 3,500 Syrian wounded were brought into Israel for medical treatment, including men, women and children.

Since 2016, over 1,300 sick Syrian children were brought into Israel for one-day treatments by expert doctors.

One field clinic the IDF established along with international aid organizations in the southern Golan has treated some 6,000 patients since its opening in August 2017.

In total, over 4,800 Syrians received treatment in Israel, with 33 percent of them men, 17 percent women and some 50 percent children.

The IDF delivered about 60 tons of humanitarian aid to the Syrian Golan Heights on Thursday night. During the special overnight operation, some 300 tents, 13 tons of food, 15 tons of baby food, three pallets of medical equipment and medicine and some 30 tons of clothes and shoes were transferred into Syria from four different spots on the border.