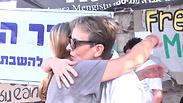 Protest in solidarity with Goldin and Shaul families
Photo: Moshe Mizrahi
The family of Lt. Hadar Goldin and Staff Sgt. Oron Shaul—whose remains have been held by Hamas in Gaza since they were killed in the 2014 Operation Protective Edge—boycotted a ceremony on Tuesday commemorating the war in protest against the government's failure to return their sons for burial in Israel.

While the ceremony was taking place on Mount Herzl in Jerusalem, 15 bereaved families whose sons had fallen during the 7-week summer offensive protested outside the Prime Minister's Residence.

"Thank you for your solidarity. It is not taken for granted. Protective Edge does not end until our soldiers come home," said Hadar's mother, Leah Goldin.

"The State of Israel and the IDF are first and foremost committed to IDF soldiers and the families. The fact that bereaved families are standing on the sidewalk opposite the home of the prime minister and his wife to state the obvious is painful," she continued.

Zehava Shaul, Oron's mother, told the protesters that "my life has changed completely. From a happy and fun home, we became the saddest home. I live in complete uncertainty, and it's killing me even more. We've gone through four years of longing and the utmost pain."

She lamented the fact that "the government of Israel and the defense establishment are not saying anything," calling on Prime Minister Benjamin Netanyahu to act. "We can't suffer any more. You had so many opportunities you did not take advantage of. I want my son back, I don't care what state he's in. I can't wait any longer."

Motti, whose son Li Mat was also killed during Protective Edge, bemoaned the fact that "The State of Israel sent soldiers (to Gaza), and the soldiers did not come back. The State of Israel, which was established on camaraderie, abandoned the sons that are important to it. What message do you want to send to the people? That in the next round (of fighting), parents will have to wait for years to know what happened to their children? Don't shake the foundations of our society. I'm asking you, do something."

Ilan Sagi, whose son Erez Sagi was also killed in Gaza, said he came to protest "to support the Golin and Shaul families after all this time. My son is buried in Haifa, but he would've preferred I came here so the Goldin and Shaul families have a real grave, than for me to attend a state ceremony in his memory. They went to war together, and they should return home together."

Speaking at the state ceremony on Mount Herzl, Netanyahu said that "We continue investing great efforts to bring back our fighters Oron Shaul and Hadar Goldin. Not everything is out in the open, and that's a good thing. This is a commitment that will remain until their return, relentlessly. The same applies to our citizens held in Gaza, Avera Mengistu and Hisham al-Sayed, as well as all of our missing persons throughout the years."

"One of Hamas's goals in Protective Edge was to isolate Israel on the international stage," he continued. "The complete opposite happened. Even Arab states indentified with our position, and I have solid reason to believe that today these things are even truer."

The prime had a message to the Palestinian leadership, "I recommend the Gaza rulers to choose calm. If they choose escalation—the price they would have to pay would be unbearable for them."

During Operation Protective Edge, which lasted 50 days during July and August 2014, 68 IDF soldiers and five civilians were killed, while hundreds of soldiers and civilians were wounded and Israel was under constant rocket fire from Gaza.