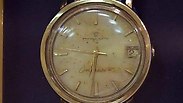 Cohen's wristwatch
Photo: Amos Ben Gershom/GPO
The Mossad, Israel's Institute for Intelligence and Special Operations, has recently retrieved a wristwatch that belonged to spy Eli Cohen, it was cleared for publication on Thursday.

Eli Cohen, Israel's spy in Damascus was caught and hanged by the Syrians in 1965.

His wristwatch was recovered in a recent special Mossad operation.

"After Eli Cohen's execution on May 18, 1965, the wristwatch was held by an enemy state. Upon the watch's return to Israel, special research and intelligence operations were carried out which culminated in the unequivocal determination that this was indeed Eli Cohen's watch," the Mossad said.

During an annual service in Cohen's memory in May, Mossad Director Yossi Cohen presented the wristwatch to the spy's family.

"There was great excitement, because it is essentially the only item of dad that came back, we have nothing else besides that," said Cohen's daughter Sofi Ben-Dor.

She said the watch "was not kept in pristine condition, but it's moving to know dad touched it. We haven't touched it yet, it's in a frame at the lobby outside the Mossad director's office."

The wristwatch is now on display at the Mossad headquarters "as a badge of honor and in memory of the legendary fighter," the agency said in a statement.

It will be given back to the family on Rosh HaShana.

Ben-Dror said the grandchildren of the woman who held onto the wristwatch after Cohen's capture wanted to sell it. "They knew all of these years that it belonged to him, and only when their grandmother was old enough, the grandchildren took advantage of the opportunity to make money," she explained. "They approached Israeli officials, because they knew they could get more out of them."

She said photos and DNA analysis were used to confirm the wristwatch indeed belonged to her father.

Nadia Cohen, the Israeli spy's widow, told Army Radio that "a few months ago, the Mossad shared with us that they had tracked down the watch, which was on sale. We don't know where, in what place, in what country. And of course the Mossad bought it and carried out all of the tests to make sure it was the right watch."

"I decided the watch would remain in the Mossad. I felt like it was part of his body, that some of his skin and some of his blood was in that watch," she added.

Prime Minister Benjamin Netanyahu praised the Mossad for "the determined and courageous operation, the sole objective of which was to return to Israel a memento from a great fighter who greatly contributed to the security of the state."

Mossad Director Yossi Cohen added that "We remember Eli Cohen and do not forget. His heritage—of dedication, determination, courage and love of the homeland—is our heritage. We remember and have maintained a close connection over the years with his family, Nadia and the children."

"This year, at the conclusion of an operational effort, we succeeded in locating and bringing to Israel the wristwatch that Eli Cohen wore in Syria until the day he was captured. The watch was part of Eli Cohen's operational image and part of his fabricated Arab identity," the Mossad chief added.
Our man in Damascus
Eli Cohen was born in 1924 in Egypt and was a member of the Zionist youth group in Alexandria from a young age. He started engineering studies at the university in Alexandria, but had to quit due to the rise in hatred towards Jews in Egypt following the 1948 War of Independence.

In the early 1950s, Cohen was part of a spy network of young Egyptian Jews, which was operated by Israeli intelligence. After the network was exposed in 1954 by Egypt's intelligence agencies—in what was later known as the Lavon Affair—he was questioned and eventually released.

Cohen made aliyah to Israel in 1957. Shortly after that, he began talks with the IDF's Intelligence Directorate, but those talks did not bear fruit. In 1960, Cohen was recruited by Israeli intelligence services. Later he was sent to Argentina to establish a fictitious identity of a Arab businessman, a former Syrian, named Kamal Amin Ta'abet.

In 1961, Cohen entered Syria and began his undercover activity. Over time, he moved up the social and political ranks and formed close ties with the top echelons in the Syrian leadership. At the height of his activity, Cohen was nominated for the role of Syria's deputy defense minister.

Taking advantage of his extensive connections, Cohen transferred high-value intelligence to Israel about the Syrian army's deployment in the Golan Heights.

He also reported on different military and political moves, before being caught in 1965 and executed.