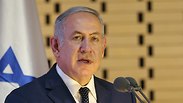 Prime Minister Netanyahu
Photo: Alex Kolomoisky
Seventy years after the Altalena Affair, Prime Minister Benjamin Netanyahu has announced that "not only were the Etzel fallen not traitors, they were patriots of the first degree and acted in the benefit of the State of Israel, with immense effort and great sacrifice."

The Altalena Affair was a violent confrontation between the newly-created IDF and the Etzel (Irgun), one of the Jewish paramilitary groups, in June 1948.

The Altalena cargo ship was loaded with weapons for the Etzel during the time it was in the process of being absorbed into the IDF. The boat also carried medical equipment and and some 940 new immigrants.




The boat arrived at Israel's shores during the first truce during the War of Independence. While the Etzel leadership, headed by Menachem Begin, insisted that 20 percent of the military equipment on board would go to Etzel units fighting as part of the IDF as well as independent Etzel units in the Jerusalem area, the Israeli government demanded the military equipment will first be given to the IDF, which will later decide how best to distribute it.

The IDF gave the Etzel an ultimatum, demanding it to immediately hand over the weapons from the boat, which docked near Kfar Vitkin. The Etzel command rejected the ultimatum, prompting an exchange of fire between IDF and Etzel forces, during which both sides suffered casualties.

The ship fled down the coast toward Tel Aviv, where the two sides once again exchanged fire the next day. Later that day, the boat was hit by a shell fired from IDF canon and was eventually sunk.

Sixteen Etzel fighters and three IDF soldiers were killed in the incident.

Netanyahu's declaration was made at the suggestion of Shlomo Nakdimon, who wrote the book "Altalena" about the affair, after he proposed the prime minister makes the following statement:

"In official state documents in general and in government minutes from June 1948 in particular, the government's position is established that Etzel and Altalena and those on board rebelled against the Israeli government and betrayed the State of Israel (as the deputy IDF chief announced during a legal proceeding following the arrest of the Etzel's senior officials). I therefore announce on behalf of the Israeli government that reality has proven the accusation of rebellion and betrayal to be a false accusation, and therefore no longer exists."

Netanyahu noted that he instructed Cabinet Secretary Tzachi Braverman to work with relevant officials to locate the boat's wreckage.