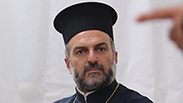 Father Gabriel Nadaf
Photo: Gil Yohanan
Father Gabriel Nadaf, one of the founders of the Israeli Christians Recruitment Forum, has been questioned under caution in connection with a criminal case being investigated over the past few months by Lahav 433, the police's anti-corruption unit.

A sweeping gag order has been put on the details of the investigation. The police said the alleged offenses were committed several years ago.

The case was submitted for review to the State Attorney's Office after the conclusion of the official police investigation.

The Father had the honor of lighting a torch at Israel's Independence Day celebrations in 2016. But his selection was controversial, after testimonies were published raising suspicions he exploited his position to obtain sexual favors. But the allegations have not been proven.

A Channel 2 News investigative report aired in May 2016 featured a string of Facebook messages between Father Nadaf and a young man who asked for his help with military related issues.

"I've always liked you," Father Nadaf wrote to the young man. "I don't know what comes over me everytime I see you in uniform. I don't know what. It feels weird. Manliness."

In another string of messages, containing over 400 pages, Father Nadaf and a Palestinian associate, Khalil Ghanem, talked about how they could help Palestinians obtain entry permits to Israel in exchange for money and sexual favors.

In response to the Channel 2 report, Father Nadaf said that "Criminal elements in the community, along with those who have been driven crazy by the success of my life's work, are trying to prevent me from getting recognition for my contribution in recruiting Christian Arabs to the IDF. These elements committed an elaborate crime against me ... and succeeded in creating a false representation of me and made it look authentic."

"The truth is, I haven't done anything described in the report—I didn't harm anyone sexually and didn't try to arrange entry permits for Palestinians. Unfortunately, the hostile elements, who I unfortunately trusted—exploited it and took over my Facebook page and my phone messages in order to write lies under my name," he added.

This was not the first time that Father Nadaf's activity to recruit Arabs to the IDF resulted in conflict.

In late 2015, the Magistrate's Court in Acre ruled in Father Nadaf's favor, ordering a member of the Shfaram City Council to pay him NIS 35,000 in damages, after he compared the Father to the leader of ISIS.