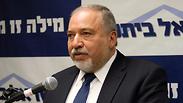 Defense Minister Lieberman
Photo: Yoav Dudkevitch
Lieberman warns Hamas: Get it together and stop the fires
'The way Hamas is conducting itself, it could pay a heavier price than it did in Protective Edge,' the defense minister threatens as incendiary balloons and fires continue wreaking havoc in Israel; Netanyahu says Kerem Shalom crossing will be closed as punitive action.
Defense Minister Avigdor Lieberman threatened Hamas on Monday, warning of repercussions to the incendiary kites and balloons, while Prime Minister Benjamin Netanyahu said Israel will close the Kerem Shalom crossing in a crackdown against Hamas.

"The way Hamas is conducting itself, it could pay a heavier price than it did in Protective Edge," Lieberman said at a meeting of his Yisrael Beytenu faction in the Knesset.

"This situation, in which every day our woodlands are being burned every day cannot continue," he said.

"I suggest they (Hamas) get it together and stop with the fires. In the coming days, we'll continue putting restrictions on the crossings. I've instructed the IDF to take several measures," the defense minister warned.

Looking to the northern border, the defense minister threatened a "harsh response" to any attempt by Syrian forces advancing against southern rebel areas to deploy in the Golan Heights demilitarized zone under a UN-monitored armistice.

"For our part we will sanctify the 1974 disengagement agreement, and there too we will insist that every last letter be abided by, and any violation with meet a harsh response from the State of Israel," he said.

On Sunday night, Syria said its air defense repelled an Israeli sorties against the T4 air base in Homs province, where seven Iranian Revolutionary Guards Corps personnel died in an April 9 attack that Damascus and Tehran also blamed on Israel.

Israel, in keeping with its customary reticence on such operations, declined all comment.

"Regarding yesterday—I read about it in the newspapers today and I have nothing to add," Lieberman said on Monday.

"Perhaps just one thing, that our policy has not changed. We will not allow Iran's entrenchment in Syria and we will not allow Syrian soil to be turned into a vanguard against the State of Israel. Nothing has changed. There is nothing new."

Addressing the IDF draft bill, Lieberman stressed his party would not allow "any movement and any change. Not a word, nor a letter, a comma or a period."
Cabine to approve earthquake preparedness plan 'in coming days'
While Netanyahu said the legislation is at the top of the coalition's priority and plans to pass it before the end of the Knesset's summer session next week, Lieberman warned that "it's safe to assume there's a natural difficulty in completing the legislative process in the two weeks left."

The defense minister also criticized the inaction of the Cabinet he sits on in addressing the threat of earthquakes, after a series of minor tremors shook Israel in recent days.

"We forgot history a little," he said. "Last June, we had the biggest earthquake drill in Israel's history. Lessons were being learned for half a year and in January we released the conclusions of that national drill in the media."

"Following this, the Home Front Command formulated a multi-annual plan to prepare the Israeli home front both for a security-related emergency and for an earthquake," Lieberman said.

"After formulating the multi-annual plan, it was sent to the cabinet for approval. The Cabinet was supposed to hold a discussion about it two weeks ago and was canceled at the last moment. We're still waiting for that Cabinet meeting to approve the plan," he added.

At a faction meeting later in the afternoon, Prime Minister Netanyahu promised to bring the earthquake preparedness plan to the Cabinet's approval "in the coming days."

He also vowed to take a heavier hand with Hamas. "We will crack down immediately on the Hamas regime in the Gaza Strip. In a significant move, we will today shut down the Kerem Shalom (border) crossing. There will be additional steps. I am not detailing them," he said.

Kerem Shalom is the main commercial crossing between Israel and the Gaza Strip.
'Four years later, and the south is burning'
Zionist Union leader Avi Gabbay slammed Prime Minister Netanyahu, arguing Israel's security hasn't improved since the 2014 war in Gaza.
"Four years have passed since the end of Operation Protective Edge, in which 74 soldiers and citizens were killed. What has the government done in these four years to make Israel safer, better? What diplomatic, economic or strategic moves were taken vis-a-vis Gaza? Nothing," he said.
"Netanyahu hasn't been Mr. Security in a long time. He's maybe Mr. Microphone," Gabbay quipped.
"Instead of taking advantage of the calm following the operation, of Hamas's weakness and of the Gazan residents' anger towards Hamas—Netanyahu squandered (the achievements of) Operation Protective Edge. It's not the operation that failed, it's the government that failed," the politician continued his attack.
"Four years later and the south is burning again. Thousands of acres are burning because there is no leader in Israel. There's a skilled politicians who makes no decisions and spends Cabinet meetings covering his own ass and fearing Lieberman and (Education Minister) Bennett," Gabbay charged.
"No forethought, no initiative, no nothing," he said. "And when Netanyahu doesn't succeed, he minimizes the failure, distances himself so it doesn't stick to him, answers 'Next' to questions on security, and sends (former coalition head) Bitan to mumble that by the elections, it would all be resolved."
Reuters contributed to this report.