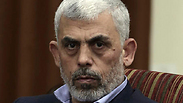 Hamas leader in the Gaza Strip Yahya Sinwar was lightly injured in a car accident on Monday, breaking his hand, according to Gaza sources.

A source close to Sinwar confirmed the report, saying it was a regular car accident and there was no suspicion of foul play.

He said Sinwar's hand was put in a cast.

Hamas has yet to officially comment on the matter.

Sinwar is the most senior of the Palestinian prisoners released in the 2011 Shalit prisoner exchange deal. A year and a half ago, he was chosen to serve as Hamas's leader in the strip, becoming the third most important official in the terror group, following Saleh al-Arouri and Ismail Haniyeh.