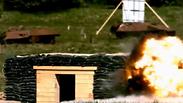 Gil 2 experiment
Photo: Rafael
Rafael Systems has recently begun providing the IDF and other armies, mainly from Europe, with the new version of the Israeli anti-tank Gil 2 missile which has been used for over two decades.

The experiments conducted as part of the missile's improvement process were held during the past few weeks in fields in the south of the country as well in additional locations around the globe.

Footage of Gil 2 experiment (צילום: רפאל)

During the experiment, the missile penetrated through 20 cm of armed concrete walls, bunkers, and fortified situation rooms.

According to the missile's operators, one of its most notable advantages is its ability to strike without direct line of vision with the target.

The new missile has an improved firing range of 5.5-6 km, as opposed to the previous Gil missile which had a firing range of 4 km.

While the missile went through a series of improvements, its weight was diminished by merely several hundred grams, and the new version now weighs 13.2 kg in total.

The upgraded missile's warhead can also explode while in the air, eliminating a cell of terrorists hiding in the field.

"The missile is multi-tasking and its ability to penetrate defense layers of armed structures has improved by 30 percent," a Rafael official explained.

"The system is also able to receive target coordinates from an independent drone and launch the missile without a direct line of vision with the target. This will prevent the force operating the missile from exposing itself while the missile flies at 240 meters altitude until it unpredictably strikes the target," the offical added.

Some month ago, a first-of-its kind international Gil 2 operation competition was held in the south between major generals, a team of the Givati reconnaissance battalion's anti-tank company and their European counterparts, with Holland's team clinching first place.