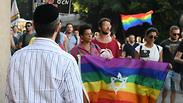 LGBT protest
Photo: Yair Sagi
LGBT community protests Surrogacy Law over exclusion of gay couples
LGBT persons and their supporters hold protest rallies in Tel Aviv and Jerusalem against the law, which passed in the Knesset on Wednesday; strike announced for Sunday, with many big companies expressing their support; LGBT reservists say won't do reserve duty until law is changed.
After the passing of the Surrogacy Law, which excludes gay couples, members of the LGBT community have declared a series of protest moves, including a strike planned for Sunday and protest marches in Tel Aviv and Jerusalem.

Some 800 members of the LGBT community and their supporters protested against the Surrogacy Law on Thursday evening in Tel Aviv.

Organizers said there were several reasons for the protest march. In addition to the legislation, demonstrators also marched to protest the assault of a transgender woman earlier this week and two expected hearings at the High Court of Justice next week, one of them on a petition by two women fighting the state for the right to both be recognized as their child's mothers.

"We call on the LGBT community and the general public to join us in demanding full equal rights," organizers said.

Protesters called out: "There's no equality, but there is discrimination, dismantle the government!"; "Homophobia is terrorism, no excuse will help"; "Netanyahu is a homophobe, so we went out on the streets."

They also carried signs saying "We are family," and "How much can you refuse to listen?"

One speaker at the protest said, "I want to send a message to our corrupt government that we're here, and we'll go out to the streets until we get—by the end of this summer, or perhaps even before that—the birth rights we deserve. We won't give them up. Netanyahu will beg for a meeting with us."

Dozens protested against the law in Tel Aviv and Jerusalem on Wednesday as well.

The LGBT Task Force annoucned a strike on Sunday, the ninth of Av in the Jewish calendar, which marks a day of mourning and is considered a voluntary work day, a factor that will make it easier to stage the strike.

Several of the biggest companies in the Israeli market expressed support for the LGBT community's protest, including pharmaceutical company Teva; communication companies Bezeq, Cellcom and Motorola; TV providers Yes and HOT; Facebook Israel; credit card companies Leumi Card and Isracard; pharmacy company Super-Pharm; Clal Insurance; airlines El Al and Israir; construction engineering company Electra; supermarket chain Sufersal; and many others.

Others expressing support include the Ichilov Hospital in Tel Aviv and the Israel Nature and Park Authority.

Many of the companies will allow their LGBT employees to miss work and join the strike on Sunday without having to take a day off, while some will allow displays of protest, such as Israir, which will let its employees to wear black instead of their uniforms.

Microsoft Israel announced that they will contribute NIS 60,000 to its workers who seek to have a child via surrogacy outside of the country, regardless of gender, sector, sexual orientation, age or marital status.




Among the protest moves, many LGBT persons said they will not do reserve duty in the IDF until the government rectifies what they say is a discriminatory law. The initiative is being made by individual reservists and is not an organized effort.

"The state is repeatedly turning its back on us and it is time to say enough!" explained Idan, a member of the LGBT community. Idan was reprieved from reserve duty two years ago but decided to re-enlist as a volunteer. After the law was passed on Wednesday, he wrote to his officer withdrawing his request.

"It is not right that I should devote myself to the institutions of a state that does not recognize my rights. This is a protest against those who elected the government and against the state which does not give me the right to marry and have children like any other citizen," he said.

Matan Ben Yaakov, 33, a reservist in the Binyamin Regional Brigade who served during the 2014 Operation Protective Edge together with his partner, announced in response to the law that he has decided to end his 15 years of service.

"For many years, I served the state out of principle, that is how I was raised … But today I felt like (the state) spat in my face."

Ofir, who serves as a tank commander in reserves, notified his commander that he will also cease his participation in reserve duty, adding that he received support and empathy from the officers.

"It is time that the state, which sends me to fight and endanger my life, gives me the right to be a father and marry. When this injustice is fixed, I will gladly serve again," he said.

In the days leading up to the Knesset vote on the Surrogacy Law, the LGBT community embarked on a campaign to prevent the passing of the law in its current form, focusing their efforts on the Kulanu Party, some of whose members expressed sympathy for the campaign. Nevertheless, they voted for the law in accordance with coalition discipline.

One activist wrote to the committee chairman MK Eli Alaluf: "I am 41, how long must I wait? A decade? Two? Do you want me to give up on having children?"

Prime Minister Benjamin Netanyahu was criticized for voting against a reservation to the law submitted by his own party member MK Amir Ohana, which called for the inclusion of single fathers under the purview of the law.

"Today we voted on surrogacy for mothers," Netanyahu said in an effort to explain his decision. "I told Ohana in advance that I will not support his reservation because it would derail the law, and then mothers would be left out (as well). I told him that if he submits a revised version for fathers I would support it."

The High Court is expected to review appeals against the law next week.