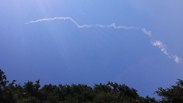 Launching of David's Sling interceptor
Photo: Yoni Lobliner
Morning sirens triggered by IDF destruction of own David's Sling interceptor
IDF investigation reveals flurry of rocket alert sirens were triggered by midair destruction of David's Sling interceptor, which was launched moments earlier to shoot down 2 large Syrian surface-to-surface SS-21 missiles fired as part of ongoing civil war.
Rocket alert sirens were triggered Monday morning after one of the two David's Sling interceptors, which was launched to destroy two large Syrian missiles, had to be destroyed in midair, with the army fearing shrapnel from the interceptor will fall inside communities and endanger the residents, according to an initial investigation conducted after the incident.

David's Sling, a mid-range Israeli missile defense system jointly manufactured with US firm Raytheon, identified the missiles immediately upon their launch as ballistic missiles that were about to hit deep inside Israel, and so it went on the alert.

The commander of the David's Sling then made the decision within a few seconds to fire the interceptor for the first time in a real operation.

Some 25 seconds after one of the interceptors had been dispatched by the IDF, a decision was taken to destroy one of them, which is what triggered a number of rocket alert sirens in northern Israel.

A second interceptor continued toward the target, two Syrian surface-to-surface SS-21 missiles carrying half-ton warheads, and it is unclear whether it destroyed them.

In the end, IAF official estimate the missiles hit inside Syrian territory, some one kilometer from the Israeli border, after their final impact point changed mid-flight.

Nevertheless, the IAF is examining whether David's Sling was able to intercept one of the missiles.

The system, dubbed David's Sling, is meant to counter the type of medium-range missiles that the Iran-backed Lebanese Hezbollah militants have. It completed Israel's multi-layer aerial defense system when it became operational in 2017.

The rocket alert sirens were activated amid fears that shrapnel from the original interceptor that was destroyed while in the air could fall on the civilian population below.

While the risk of wounding civilians is low, pieces of the missiles have fallen on communities and towns on more than one occasion, with the self-destruction of Iron Dome missiles and the remnants of interceptor missiles.

According to the initial investigation carried out by the Israel Air Force, the two missiles that were fired in the morning from southeast Syria toward Israel were errant launches as part of the internal fighting Syrian President Bashar Assad and rebel forces.

The surface-to-surface SS-21 missiles have high maneuverability capabilities and the Syrian army uses them often. Their range is some 100 km, while their flight time is between 1-1.5 minutes.

Associated Press contributed to this report.