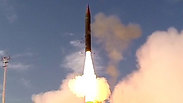 Arrow 3
Photo: Defense Ministry
The Security Cabinet is set to approve on Sunday a new NIS 30 billion ($8.225 billion) plan to arm the IDF with defense weapons to thwart missile strikes amid the rising tensions on both the northern and southern fronts.

The multi-annual plan, which is expected to start in 2019 and end in late 2028, is the most expensive plan in IDF and Israeli security history.

The plan will allocate massive resources to the IDF for the protection of the entire Israeli home front from the north to the south, increasing the IDF's missile arsenal and developing and purchasing advanced defensive measures.

Prime Minister Benjamin Netanyahu, Finance Minister Moshe Kahlon, Defense Minister Avigdor Lieberman, IDF Chief of Staff Gadi Eisenkot, the heads of the National Security Council and other senior defense establishment officials have been holding secret discussions about the details of the plan in recent months.

A senior government official described the plan as unprecedented in scope. "There hasn't been such a plan, certainly not at such a massive cost and scope. This is a wide scale defensive and offensive plan," he said.

According to assessments in the defense establishment, the next war will include massive fire of advanced missiles at the Israeli home front. In order to prevent mass casualties and significant damages to the home front, Israel will have to neutralize these missiles immediately upon their launching.

To that end, the defense establishment will increase Israel's missile defense apparatus by hundreds of percents under the new plan.

In addition to bolstering the Israeli home front in time of war, the new plan will add work to Israel's defense industries factories, requiring the recruitment of additional employees and the allocation of resources to increase the production in these factories.

"The plan will particularly increase the country's emergency resilience, even in the case of multiple fronts," the senior government official said. "The plan will increase and expand defensive measures for Israeli citizens and allow the IDF to have the strategic depth it needs to bring to a clear military victory quickly."

The allocation of NIS 30 billion for the plan reflects "the long-term governmental thinking, while setting long-term national goals, which are budgeted as part of the national expense based on the gross national product (GNP)," according to the plan's explanatory note.

The plan will be implemented over the next decade at the cost of some NIS 3 billion a year on average. It will be funded with money saved in significant streamlining processes inside the army as well as with additional funding from the state budget. The intention is to use tax surplus money and make cuts in places that won't harm citizens—meaning, not from the education, health or welfare budgets.