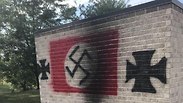 Scene of the vandalism
Photo: Debby Barton Grant Facebook page
Graffiti including a swastika, an anti-gay slur, and two large painted Nazi flags have been found on Saturday at Congregation Shaarey Tefilla synagogue in the city of Carmel, near Indianapolis.

The heads of the local Jewish community who came to pray in the synagogue on Saturday were shocked to discover graffiti drawings of swastika and two iron crosses identified with the Third Reich on the synagogue's walls.

The conservative congregation's Rabbi, Benjamin Sedrow, said that the community was "deeply disappointed in the horrific vandalism that occurred at our Congregation."

"Intolerance, hatred, and violent acts against Jews are significant realities today. The response to this heinous act affirms that America is collectively outraged at these hateful acts in our neighborhood," said Sendrow.

Mayor of Carmel Jim Brainard expressed solidarity with the Jewish residents and said that the police had opened an investigation into the attack. No arrests were reported.

"There is no place for this kind of hatred in Carmel. This attack does not represent the dignified and welcoming nature of our residents who come from a variety of cultural and religious backgrounds," the mayor said.

"As we are reminded each year during our city's Holocaust Remembrance Ceremony, we must never forget and never stop fighting against the hatred that led to the murder of 6 million Jews. These images that represent the ideas that led to those crimes are not reflective of what our City stands for," he added.

According to the congregation's Facebook page, all relevant information was given to the Jewish organizations in the area in order to prepare for similar events.

"Congregation Shaarey Tefilla is working with law enforcement as they continue their investigation. In addition, we are working with representatives of the Jewish community in Indianapolis and the Jewish Federation of Carmel to appeal to other synagogues and Jewish organizations and to ensure that they are taking appropriate measures", the Jewish congregation stated.

US Vice President and former governor of Indiana, Mike Pence wrote on Twitter that he is "Sickened and appalled by the cowardly act of vandalism at Congregation Shaarey Tefilla; a beautiful synagogue in Carmel, Indiana where I have many good friends. Those responsible must be held accountable. These vile acts of anti-Semitism must end."

The Midwest, especially in the states of Indiana and Ohio, is prone to neo-Nazi organizations' attacks.

In fact, the White Aryan Resistance was founded in Indiana by white supremacist and former Klanssman, Tom Metzger.

Moreover, the American neo-Nazi who was charged with second-degree murder after killing one person and injuring 19 in Charlottesville's riots, James Alex Fields Jr., came from the area.

In addition, the city of Paoli in Indiana is home to the Traditionalist Worker Party, a relatively influential neo-Nazi, white nationalist group.

According to David Sklar, the assistant director of the Indianapolis branch of the Jewish Community Relation Council (JCRC), there is no denying that anti-Semitism has increased in the US in recent years.

"Taking security measures and preparation for similar events have become a daily concern for Jewish communities across the country. The community members are on edge, there is no doubt about it. But, the enduring spirit of our community continues to shine every day," Sklar said.

"Indiana does have a long history of extremism and supremacist. But, I don't believe that reflects the nature of our state now. While we are the home to a number of hate groups, they do not pose a lot of problems," he added.

"However, Indiana is currently one of only five states out of fifty that does not have a law that specifically addresses hate crimes.

"This incident has now galvanized the Indianapolis Jewish Community, and we will use this incident as an opportunity to advocate for a hate crime law in Indiana," concluded the assistant director.