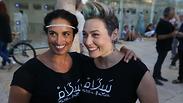 Activists at the rally
Photo: Motti Kimchi
Protesting Nationality Law, hundreds gather to learn Arabic
Organizers of 700-strong gathering in Tel Aviv's Habima Square say lessons meant to demonstrate anger at controversial law's demotion of Arabic from official language to 'special status', with one activist describing law as 'perhaps the most anti-Israel law ever' passed in Israel.
Some 700 people gathered in Habima Square in Tel Aviv on Monday in order to learn Arabic together as a show of protest against the Knesset's recent passing of the controversial Nationality Law.

Israel passed the nationality bill into law earlier this month to declare that only Jews have the right of self-determination in the country, something which Prime Minister Benjamin Netanyahu hailed as the realization of Zionism's vision but which has stoked anger among critics who argue it is racist.

Organizers of the gathering in Habima Square, which was dubbed "The biggest Arabic lesson in the world", said it was intended "to make the Arabic language widespread in the public."


The law strips Arabic of its designation as an official language alongside Hebrew, downgrading it to a "special status" that enables its continued use within Israeli institutions.

During the event, a number of short lessons were given on Arabic phrases and words. Arabic and Hebrew songs were also sung by famous artists.

"It is important for us to point out and say that the Arabic language cannot be annulled," said Nadya Masallah who organized the event. "There are residents here who live and speak this language, and we have to maintain it and strengthen it and continue to work so that the Arabic language will be here."

Masallah's children study in a bilingual school which she says strengthens the idea of coexistence. "The Arabic language is something that is extremely essential in this country. This can't be forgotten. This law, if implemented, would have an impact," she said.

"Suddenly we will see the signs in the street without Arabic and that is something that my son reads in Arabic and he focuses on it. Suddenly we will go into hospitals which is a government place and there won't be any Arabic there and it will be the same in various other places which will be extremely significant," she lamented.

"The language is our past, our present and our future as is the Hebrew language and we are not giving it up," she said on the stage. "We are here and are continuing our campaign to widen the Arabic language."

Ron Gerlitz, the joint chairman of the NGO "Sikkuy" (Chance), an organization that promotes equality and coexistence between Arabs and Jews in Israel, said that he believed the Nationality Law is "perhaps the most anti-Israel law that has ever been legislated in Israel."

"There are many people here, both Jews and Arabs, who came to protest against this law and our protest is done through teaching Arabic and it is aimed against this law and against the downgrading of the status of the Arabic language," he said, describing the demonstration as "a wonderful thing."

According to Gerlitz, serious anger is rampant throughout Israeli society at the law. "This is something special and it is not something trivial," he said.