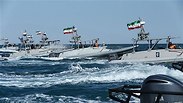 Iran's Islamic Revolutionary Guard forces
Photo: PressTV
Iran's Islamic Revolutionary Guard forces are gearing up to stage a major exercise in the Persian Gulf, perhaps within the next 48 hours that could be aimed at demonstrating their ability to shut down the Strait of Hormuz, according to a CNN report citing two US officials "directly familiar with the latest US assessment of IRGC troop movements."

"We are aware of the increase in Iranian naval operations within the Arabian Gulf, Strait of Hormuz and Gulf of Oman. We are monitoring it closely, and will continue to work with our partners to ensure freedom of navigation and free flow of commerce in international waterways," Captain William Urban, chief spokesman for US Central Command, told CNN.

In March, Iranian President Hassan Rouhani appeared to threaten to disrupt oil shipments from neighbouring countries if Washington presses ahead with its goal of forcing all countries to stop buying Iranian oil.

The comments, published on Iran's presidential website and partially repeated at a later news conference in Switzerland, could be open to interpretation. However, when asked whether he intended to make a threat, Rouhani declined to provide a clarification.

Iranian officials in the past have threatened to block the Strait of Hormuz, a major oil shipping route, in retaliation for any hostile US action against Iran.

In July, the head of Iran's Revolutionary Guards said their forces were ready to implement Iran's threat to block the Strait of Hormuz and that if Iran cannot sell its oil under the US pressure, no other regional country will be allowed to.

"We are hopeful that this plan expressed by our president will be implemented if needed ... We will make the enemy understand that either all can use the Strait of Hormuz or no one," Mohammad Ali Jafari, commander of the Islamic Revolutionary Guard Corp, was quoted as saying by Tasnim news agency at the time.

The strategically critical Strait of Hormuz links the Persian Gulf to the Arabian Sea and is crucial to international shipping and particularly for global energy supplies.

Responding to Iranian threats, Defense Secretary James Mattis said at the end of last week that "Iran has threatened to close the Strait of Hormuz. They've done that previously in years past. They saw the international community put—dozens of nations of the international community put their naval forces in for exercises to clear the straits. Clearly, this would be an attack on international shipping, and—and it would have, obviously, an international response to reopen the shipping lanes with whatever that took, because of the world's economy depends on that energy, those energy supplies flowing out of there."