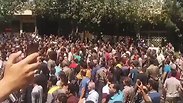 Scattered protests broke out in several Iranian cities on Thursday over the dramatic drop of the country's currency and other economic problems ahead of the imposition of renewed American sanctions, Iran's state-run IRNA news agency reported.

About 100 people took to the streets in the northern city of Sari, as well as unspecified numbers in the cities of Shiraz, Ahavz and Mashhad, IRNA said.

Anti-regime protests Iran

The agency reported all protests had taken place without official permission and were subsequently broken up by police.

On Tuesday and Wednesday, about 200 people demonstrated in the city of Karaj, west of Tehran, IRNA reported. Police said the demonstrators had attempted to damage public buildings but were unable to, IRNA said without providing further details.

In videos circulated on social media and purporting to have been taken in the town of Gohardasht, a suburb of Karaj, dozens of demonstrators can be seen in the streets, setting fire to police vehicles and shouting "death to the dictator." Police respond with tear gas.

The authenticity of the videos could not immediately be verified.

The Iranian rial has dropped to a new record low amid growing concerns of renewed American sanctions, due to kick in on Monday.

Earlier, Iranian protesters had clashed with police outside parliament as the plunging rial triggered three days of protests last month in Tehran.