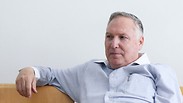 Natan Eshel
Photo: Avishag Shaar-Yashuv
Ex-PM bureau chief: If Druze don't like Nationality Law, they can go to Syria
'Not a single word must be changed in the Nationality Law. Those who don't like it—there's a large Druze community in Syria, they're welcome to establish the state of Druzia there,' Natan Eshel quoted as saying; PMO: 'Statement contradicts PM's views.'
Natan Eshel, Prime Minister Benjamin Netanyahu's former bureau chief, has suggested Druze Israelis protesting the Nationality Law should instead join their brethren in Syria.

"After going forward with it, not a single word must be changed in the Nationality Law. Those who don't like it—there's a large Druze community in Syria, they're welcome to establish the state of 'Druzia' there," Eshel was quoted as saying by journalist Amnon Abramovich.

Eshel also reportedly told different officials that "Bibi wants the Druze to not have a problem, and the Druze want Bibi to not be here," using the prime minister's nickname.

The Prime Minister's Office was quick to distance itself from Eshel. "This kind of statement contradicts the prime minister's views and his work for the Druze sect. It's ridiculous to try and attribute (this position) to him," the PMO said.

Eshel said in response, "Without addressing your question—I am not the prime minister's spokesperson, and I say things only on my own behalf and at my own discretion."

Over 90,000 people protested the Nationality Law at Rabin Square in Tel Aviv on Saturday night, calling to change the legislation. Some 2,000 more protested in Arab towns and cities across the country.

On Thursday, an attempt at reconciliation between the prime minister and Druze leaders failed when Netanyahu cut the meeting short after one of the Druze leaders, Brig. Gen. (res.) Amal Asad, called Israel an "apartheid state" in a Facebook post.